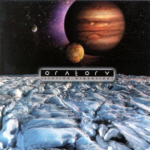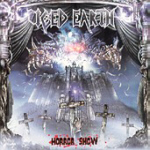 Iced Earth-Horror Show

© 2001 Century Media Records

Oratory-Illusion Dimensions

   © 2001 Limb Music Productions



A few notes

Iced Earth has really achieved a lot with this release. The album has been scheduled and bumped a few times much to the fans dismay. The album finally arrives and is probably the bands best effort to date. The album revolves around the Horror genre of movies (which coincidentally happens to be my favorite). Now not just the slashers in general, but the good old classic stuff like The Mummy, Dracula, etc. Have to mention the artwork on this one as well. It is absolutely cool! This band really is America's answer to Iron Maiden.

The Tracks

Instead of delving into a track rundown or favorite tracks, I decided to point a few things out instead. The reason for this is that it is impossible to pick out favorite tracs on an album this outstanding. They all are their own little story and world. The thing I find amazing is how Shaffer structured each individual tune to shell an atmosphere equal to the horror story or tale. 'Im-ho-tep(pharoah's curse)' has that distinct Egyptian undertone necessary to paint a visual. 'Damien', which most will know is based on 'The Omen' is a creative masterpiece as well with it's choir like intro vocals that lead to a semi-progressive shred-fest. My favorite without a doubt though is 'Dracula'. This tune starts out very melodic and then kicks your teeth down your throat. The chorus is strong as well. A little out of theme, but still very fitiing is 'Ghost of freedom' which is more patriotic in nature and is a tale all of it's own. There really is a lot to enjoy on this album.

Overall

This album definitely is in the running for album of the year honors. It was a bit of a wait, but well worth it! The band inspired themselves from the movies or stories and put together a perfect album. With each subsequent spin, you will dig this one more. One more important thing to mention is the limited edition version of this album. It is limited in copies and contains a second disc containing a very cool version of Iron Maiden's classic 'Transylvania'. Also on the disc is a very long interview that checks in at over an hour. The interview is with Shaffer and is a much fun to listen to as it is informative about everything Iced Earth. This band is really ready for the big leagues and with the right attention could stomp on this pathetic music scene we have here n the States. Do check this out, you will not be disappointed!

A few notes

Oratory is another one of Limb music's signings and as many of you may know, I dig his stuff quite a bit One of the great metal labels out there. This band is from Portugal  and features dual lead vocals, male and female, throughout the album. The album is a bit progressive and seems to cover a lot of ground. Musicianship is very good and songwriting is pretty consistent.

The Tracks

There is a good deal of balance in this bands approach to songwiting. I guess you could also look at it as discipline. Tracks like 'With glory and melody' could be overdone with the aggression end of the music, but end up consistent throughout. One may wonder how a band would incorporate two lead vocals and make it workable. The two singers really do match well. 'Metal Messenger' is a good example. They sing in unison here and there and from a tonal standpoint mold very well. 'In the sky' is one of my favorites. It is a very restrained melodic track that is enhanced by the background keys. Very emotional sounding track. If you are looking for something a bit thicker in terms of sound, 'Rising Land' gets the job done. Good gritty bass and guitar sound. Maybe the dirtiest sound on the disc. I really like 'World of Illusion' as well. Carries that trademark power metal sound that is so prevelant right now in Europe.

Overall

I think this is a very well written disc and has some good musicianship merit as well. Limb Schnoor seems to know how to find higher caliber acts and this band really is no exception. The dual lead vocal approach is interesting as well. It may not be for everybody, but should please quite a few for it's originality in this genre. If you are looking for something solid, but just a bit different from everything else out there, this is probably your ticket.