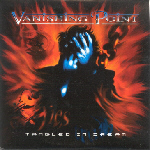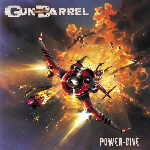 Vanishing Point-Tangled in Dream

               © 2000 Limb Music Products

Gun Barrel-Power Dive

  © 2001 Limb Music Products

A few notes

Vanishing Point hail from Australia and are a 6 piece progressive style metal outfit. 'Tangled in Dream' is their sophmore effort and contains 11 tracks of atmospheric metal music. There is also a hidden bonus track on the disc as well. As an added bonus, there is also a video track for 'Never walk away'.  Just a note on the hidden bonus track. It is a cover of a well known song by a very well known band. You'll have to pick this up to see who it is!

Standout Tracks

Samsara-Amazing atmosphere and melody. In some ways the sound is a bit remiscent of Iron Maidens 'Brave New World' sound.

Closer Apart-Great track that combines heavy rhythms with excellent vocals. Great Chorus lines.

Bring on the rain-Really like this one.  Tons of depth and melody. Instantly memorable.

Never walk away-Reminds me of something you would hear Fates Warning do. Same basic sound. Amazing track.

Dancing with the devil-Very melodic and light track that is piano based. Good depth.

Overall

It is really hard to nail down the standout tracks. This album is of very high caliber. They are not afraid to try things that others may shun, and reap the musical awards as a result. This band should definitely make a lot of noise down the road. Technical proficiency ranks them up there with the mighty Queensryche and others. You should definitely not miss this release.

Click here to add your text.

A few notes

You like your music straight forward?? Music that grabs you by the throat??  Gun Barrel is for you. The band reminds me a lot of Thunderhead especially in the vocals area. Hear a bit of Blaze in there as well. Music is pounding heavy in a traditional sense. I believe the band is German and is another in the fine class of German metal acts that seem to be thriving these days. These guys deliver their metal in lethal doses!

Standout Tracks

Power Dive-Very much in the vein of Thunderhead. Very crunchy and heavy. Traditional metal.

Only a passenger-Heads will bang here. Fast tempo with thick guitar work.

Bomb attack-Very cool grinding rhythms. Cool big sing-a-long choruses that are instantly memorable.

Gate of God-My personal favorite. Awesome choruses with intense guitar work. Definite highlight!

Gone with the wind-A bit more laid back than the rest, but still has an edge on it.

Take me to the Highway-Great album closer. Fast tempo with generous servings of crunch.

Overall

Being a Thunderhead fan, I really dig this band. They are however not a clone. There is enough of a distinction between the two to keep the identities separate. If you want to cruise down the highway and listen to something that will help put the pedal to the floor, this will more than suffice. It's amazing that the band has only been around a couple of years.They have a veteren edge to them.