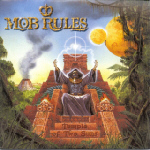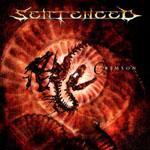 Sentenced-Crimson

  © 2000 Century Media

Mob Rules-Temple of two suns

        © 2000 Limb Music Productions

Here is an unexpected surprise. After developing my opinions on what this band would be was I ever shocked to hear this disc. What I got with this one was good hard rocking music with a moody edge to it. Almost progressive at times, the musicianship is good as is the songwriting.

1. Bleed in my arms-Chunk tune with decent atmosphere. Good melody displayed.

2. Home in Despair-Pretty close in tempo and nature to the opener. Great sounding guitar parts. Like the chorus.

3. Fragile-Consistent in nature with first two tracks. Good chorus. Chunky guitar rhythms.

4. No more beating as one-Very heavy sound. Still retains that melodic element. Like the guitar work on this one.

5. Broken-Good tightness displayed by the band on this one. Good vocals. Little more low end than the other tracks.

6. Killing me killing you-Piano added into the mix on this one adds a dimension to an already good song. Tempo changes from heavy to soft back and forth.

7. Dead moon rising-Haunting guitar work here. One of my favorites. Gets very heavy in the middle.

8. The River-Laid back track. Great guitar sound once again. The slong flows well.

9. One more day-My favorite track for guitar work. 2 different guitar sounds working together. Adds a lot of mood.

10. With bitterness and joy-More heavy edged melody. Similar to early tracks on the album.

11. My slowing heart-Very cool rhythms. Changeups on this one make it sound like 2 different songs blended together. Cool track.

Sentenced is rather hard to Pidgeonhole. I have heard a band here and there that may sound a bit like them, but they are pretty unique. The album is driven with atmospheric charged rockers that are pretty consistent with each other. If you like your metal a bit different than the norm, give these guys a listen.

I really love it when you get an album that you expect the usual from and get blown out of the water.  'Temple of two suns' by Mob Rules is definitely one of those. As a matter of fact, this album is phenomenal. Hard to keep it out of the deck. It offers a variety of different things with the tracks contained. Let's take a look.

1. The Temple fanfare-This opener is a bit short and gives you the feel that you are going to get a certain type of album.

2. Pilot of Earth-Then you get something different. This track is a bit short as well, but rocks like Hell. Reminds me of something you would Iron Maiden do. Great bass here.

3. Outer Space-Another rocker with great vocals. Like the edge on the guitar sound. Heavy yet melodic at the same time.

4. Celebration Day(sunserenade opus I)-Symphonic in style. Lots of depth. Very solid track.

5. Flag of life(sunserenade opus II)-Part 2 of track 4. More of the symphonic style. Various instrumentation used.

6. Unknown man-Back to a more straight forward rock style. Very melodic choruses that sound great. Love the middle section. Slightly progressive.

7. Hold on-Mostly piano based ballad style track with exceptional vocals. Good emotion. Really like this track.

8. Evolution's falling-Solid rock style. Mid tempo with lot's of melody,

9. Inside the Fire-Another straight ahead rocker with good keyboard useage.

10. Eyes of all young-Much faster than the other tracks. More like the European speed metal that is ruling the scene. Very cool.

11. Hold on(reprise)-Same song as above, but much longer and has more depth due to the orchestration and guitar involved. Better version for my taste, but others may like the other due to it's more acoustic nature. Brilliant.

I really like this disc a Hell of a lot. I think the band I would compare these guys to the most is Heavens Gate. These guys are very solid and should fare well due to their great songwriting. You can really sense the chemistry in the band as a unit. This disc is very highly recommended!