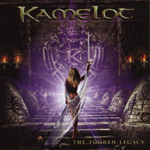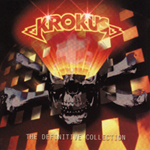 This is an easy review to write. Everyone loved Krokus in the 80's. These guys were great at writing rockers as well as ballads. This collection leans a bit more to the Rockers side, but does have an excellent track listing. Krokus released a best of years back, but hit the mark better here by adding old stuff from early on.

All of the songs on this album have been remastered to bring the sound up to todays newer standards. The artwork is very cool. There are some unseen pieces of art inside. Not a lot, but some. Also inside are liner notes containing a shortened but complete history of the band.

This album brings back a lot of memories from a time when just straight forward, kick your butt, have a good time music ruled the scene. Krokus was definitely an impact.

This album is a greatest hits package, but a very good one. It comes recommended to old fans as well as new. Get out there and get it.

Krokus-The Definitive Collection

                    ©2000 BMG/Arista

Kamelot-The Fourth Legacy

             ©2000 Noise Records

Wow. This is a great album. Doesn't the scene just keep getting better??  This is a sign of good things to come.

Remember Roy S. Khan from Conception?? After the band split, Khan joined Kamelot and recorded Siege Perilous. It was a decent effort and most fans of this style of music grabbed it. This album takes the band a step further in song writing. If you are wondering what style to expect, I would say these guys are like a majestic progressive power metal package. They combine elements from history long ago and attack it with precision and aggression.

This album isn't a total go for the throat. there are some very well written tunes that are easy to mid tempo. The other tracks will throttle you. I love intro's like the one that opens The Fourth Legacy. You've got an orchestrated piece that builds with rock elements. It builds and then explodes into the first rock track. This is great song writing.

The artwork is top notch. These progressive style bands really know how to find an artist that can equal in drawing what they achieved in writing. Song lyrics are included. The recording is phenomenal. This album is recorded well to be played loud.

I am glad to see these type of albums finally getting domestic release. This scene has flourished overseas for a long time and most U.S. fans didn't even know it existed. This album is available through Noise USA. Go out there and order it. I'm not sure how it is being stocked. It's definitely worth it.