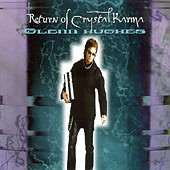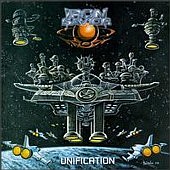 Iron Savior-Unification

       © 1998 F.A.D. Records

Glenn Hughes-Return of Crystal Karma

                           © 2000 SPV Records

From one of the most unmistakeable voices in rock, Glenn Hughes, comes a great new album of soulful tunes. Glenn has really built a legacy around his career and 'Return of Crystal Karma is another great chapter added to that. The album combines many elements such as Metal and Funk. There is a pretty good vibe going on here for people not afraid of a hybrid style.

1. The state I'm in-Heavy tune that is more of what you may be used to hearing from him. Great vocals. Like the keyboard sound here.

2. Midnight Meditated-The classic rock sounding tune. Good melody mixed with good guitar crunch. Love the chorus on this track.

3. It's Alright-Glenn's vocals work well in this style of writing. The tune shows a bit of the funk side with good rock element.

4. Switch the Mojo-Cool guitar effects mixed with the most funk heard so far. Very catchy tune. Try not to tap your toes on this one. Like this tune. Very soulful vocals.

5. Gone-Darker hard rock based tune. Chunky guitar work. Nice melodic changeup here and there.

6. The other side of me-Back to the funk sound. Has the female backing vocals. Bass driven tune.. Very cool use of guitar.

7. Angela-Mid tempo keyboard heavy tune. Keyboards sound like organ. Good choruses on this one. Lighter side of the album.

8. Owed to "J"-Groove oriented with some smooth sounding guitar. Instrumental piece. Good fast bass track. Great keyboard as well. Great track.

9. This Life-Funk oriented once again. Glenn really sings his butt off here. Shows his range. Interesting backing vocals.

10. Days of Avalon-Laid back track with soulful elements. The most relaxed track on the disc by far. Not totally light however. Good melody.

This album version I have also has a bonus disc titled 'Live in South America'. I won't go into a track breakdown, but there are 6 tracks including some very old material as well as new and also has 'No stranger to love' from Black Sabbath's 'Seventh Star' album in which Glenn was a part of.

This is a pretty good package. 16 tracks between the 2 discs of the Limited edition of this album. If you like a mixed bag of goodies and aren't afraid o get into some funk oriented stuff, this album is a good bet for you. Glenn Hughes is one of those amazing talents that has been in the scene for a very long time. Recommended.  

'Unification' is the great followup to the blazing conceptual debut from Iron Savior. The storyline continues from the debut . Enter the Calderins after recieving a transmission from the Iron Savior. It is the beginning of a new battle for mankind. Not many bands will venture into things of a conceptual nature let alone span the story across a number of albums. Iron Savior is a very good band with a lot of imagination and passion for their musical package.

1. Coming Home-Good crunchy opening track. Visual track with good combination of music and lyrics. Fits well.

2. Starborn-Very fast and heavy track. Melodic element doesn't get lost in the pace however.

3. Deadly Sleep-The heaviness continues. Good guitar work here. Cool vocals mid-way through.

4. Forces of rage-Very cool track that builds. Good atmosphere.

5. Captain's Log-Story based spoken track with some effects.

6. Brothers(of the past)-good aggression here. Fast tempo. Like the lyrics and chorus here. Kind of lines up the reason for the title of the album. Raging guitar solos.

7. Eye to Eye-Very solid track. One of my favorites. Mid tempo cruncher with good use of resources.

8. Mind over matter-Another rocker. Great rhythm section on this one. Tight guitarwork. Another favorite.

9. Prisoner of the void-Good vocals on this track. Some effects here and there used to enhance. Mid tempo rocker.

10. The Battle-Melody stands out on this track. Semi-heavy guitar.

11. Unchained-Faster tempo that changes to slower melodic music. Good tempo change. Good chorus. A lot going on here.

12. Forevermore-Great laid back song with Kai on lead vocals. Good choir style vocals. Lots of melody.

13. Gorgar(vers. 98)-Here's a track from the good old days of Helloween. Taken from the 'Walls of Jericho' album. Vocals by Kai once again.

14. Neon Knights-Black Sabbath cover. Very heavy. Piet handles the vocals masterfully. Can't say enough good about this one. Great choice for a cover!

15. Dragonslayer-Excelsis track. Interesting guitar rhythms. Heavy vocals. Kind of interesting move for Iron Savior to include a track by this band.

This is a great progression of Iron Savior. I have mentioned this before, but it is a lot of fun to kick back, read along with the lyrics and absorb into the story. Iron Savior really is one of the greats when it comes to writing this style of music. Definitely check this one out.