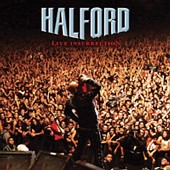 Halford-Live Insurrection

        © 2001 BMG/CMC Int'l

Velocity-Activator

© 2001 Dreamscape Music

One of my personal highlights of the year 2000 was having the Metal God back to doing what he does best, belting out metal vocals that are unsurpassed. Having seen the tour, I think that a live album is a pretty cool idea. Backed by a great band, Rob has never sounded better. This package is pretty amazing.

When I originally heard about this album, it was to be a 1 disc live set. It was later expanded to 2 discs with 3 new studio tracks. Most of you will already know the tracks included with the exception of the studio stuff so I will not break this one down track by track.

For a live recording, this one sounds great. It is definitely enhanced a bit by studio work, but really retains the live sensation. A couple of the tracks are also sound checks with crowd noise added in. but there is no b.s. handed out. It is admitted and sounds amazing.

The studio tracks are awesome. The first 'Screaming in the Dark' is very reminiscent of the 'Resurrection' album. Fast and furious. 'Heart of a Lion' and 'Prisoner of your Eyes' I believe are both Judas Priest penned tunes that have never been released. I like both quite a bit and feel they are a great addition to the release.

This is one of the best Metal live releases I have heard in the past few years. Very well put together and the track listing is great. Songs you usually don't here Rob or Judas Priest doing live were done this go around and were very welcome. Don't pass on this one. For the price, there is an extreme amount of bang for your buck. The Japanese version does contain one bonus track in the Scorpions classic 'Blackout' with Rudolf Schenker on guitar. Very cool.  

From new label Dreamscape Music Group comes the very anticipated followup to Velocity's brilliant debut 'Impact'. Dreamscape Music was founded by Ultrasound founder Dave Tedder and is really gearing up to provide a great artist roster. What a way to start, eh??

The album is an e.p. instead of full length, but really packs a whallop. On the disc are 5 tracks are essential rocking . Here is the rundown:

1. Stay-Very hevy tune in nature, but very much Velocity. A tad more modern sounding than the first disc, but very good melody.

2. Beautiful and useless-My favorite track. Very cool guitar vibe going on. Once again, a bit more modern sounding, but not a departure from the early sound. Very catchy.

3. Alive-Interesting vocals. Sounds like the first album. A bit dark, but definitely trademark.

4. You-Good hard rock the way Velocity delivers it. Mid tempo crunch tune with good choruses.

5. Stranger-I really dig this tune. Moody and packs great depth. Best written tune on the disc in my opinion.

This is an impressive way to put a label on the map. Velocity fans will dig this album. It's a progression from the first album and Dave Victor's writing. The cd is of very high quality and is a very impressive looking package. Way to go!