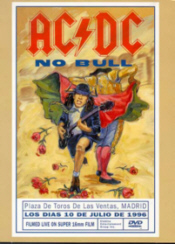 AC/DC-No Bull

© 2001 Warner Brothers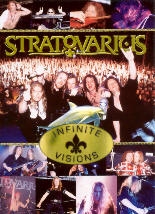 Stratovarius-Infinite Visions

          © 2001 Nuclear Blast

With the variety of things offered from the DVD format, I am happy to see the music side of the format growing very rapidly. What makes me even happier is being able to get my hands on stuff like the Stratovarius package. It's tough to have to live with such a crappy market here in the U.S. being very well aware of the quality of the artists currently releasing in the overseas market. Being able to get a small slice of the pie, i.e. some live footage, is a consolation.

'Infinite Visions' contains live footage, Mtv style videos, very cool menus, and some interview material scattered here and there.

First, the documentary style feature. The footage is shot on lower quality video equipment such as camcorders, but does suffice. It is meant to show a point of view through the bands and fans eyes. Sound is a bit on the weak side, but with camcorder.....

How about the videos??  They look and sound great. The videos are professionaly done and are encoded in Pro Logic sound. Sound levels vary a bit, but all pack a lot of punch. My favorite part of the disc.

All in all, this is a great DVD. Us starved American fans need something cool to get our hands on, and this is definitely worth getting. I can only hope that we get more from the Overseas markets. Please encode these discs in NTSC as well as Pal and keep them region free. These are very serious issues to making it accessiblefor everyone. Definitely grab this one!

From one of the most popular rock bands of all time comes a pretty cool concert presentation. The footage was shot on the 'Ballbreaker' tour in a bull ring in Spain. That bull ring is one helluva big place. The concert really shows how crazy some of those crowds get overseas.

All of the classics are there. Also, you get some of the cool tracks from 'Ballbreaker' like 'Hail Caesar', etc. The video is decent in quality. I do however recommend the stereo soundtrack. The Dolby mix is a bit too wide and separates the sound a bit too much for my liking. Maybe others will like it.

Also on the disc is the 'Hard as a rock' video as well as the making of the music video. It's a pretty cool look into the preparation of the video all of the way through to the end.  There are interviews with the band as well as some humorous moments.

If you have never seen the band, this is a good teaser into the brilliant live show that they give. If you have seen them as I have, it's a cool refresher to wet your appetite for the next show. A definite must for fans of the band!