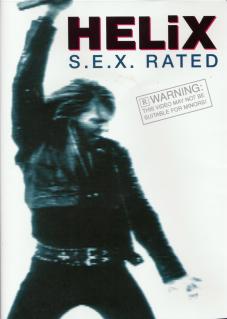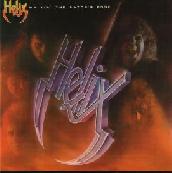 Helix-Walkin' the Razor's Edge

              © 1984 Capitol Records

Helix-S.E.X. Rated

© 2000 EMI Music Canada

I remember searching a few years back for this compilation of videos when it was available on VHS. The problem was that it was out of print by the time I tried to actually order it. I was very excited to find out that this goodie had become available on my favorite format, DVD.

Contained on this disc are the videos the band released to music television format like Mtv and MuchMusic. Well, sort of. When you pop this baby in the player for a spin, send the kiddies off to bed. You get the real deal. Sure, there is a G rated version of 'Gimme Gimme Good Lovin', but most will prefer the R rated version for obvious reasons. It is after all the bands intent. 'Rock you' is there, 'Wild in the streets' and 'Heavy Metal Love' are too. Can't forget 'The kids are all shakin' and the ballads 'Deep cuts the knife' and 'Dream on'. This disc is a great reminder of how good this band is and what we have been missing in these grunge era years.

Also on the disc is a Discography section, Helix trivia, and a Photo gallery.

The picture quality is good and you have a choice of 5.1 sound or Stereo. I listened to both and found them both decent. The disc is also formatted for PAL and NTSC meaning it is region free. To get the desired encoding you put the desired side of the disc up. It is a 2 sided disc.

This collection is a must have! I can only hope that other great metal acts will follow this trend. I have a very hard time shelling out the bucks for VHS anymore and think the bands need to plan accordingly. The DVD hs grown immensely and really is the preferred way to buy things such as this. This DVD is available thru Planet Helix. Click the logo above to get there. I have dealt with them for this item and was pleased with their service. Don't miss this one!


'Walkin' the Razor's Edge' seems to be the fan favorite in the Helix catalog. I remember when this one hit the shelves in it's initial release. It made some noise. I picked up the Japanese version a few years ago. While this one was out of print, it was a coveted prize.

The album opens with the anthem 'Rock You'. One of the most memorable songs the band has ever written. Another top notch rocker follows in 'Young & Reckless'. Great backing vocals with very full guitar sound. The sound difference between 'No Rest for the Wicked' and 'Walking the razors edge' is noticable. Not talking mastering more than just structure of writing. This album is definitely an advancement for the band. 'No rest' is definitely a rockin' album with 'Walkin' going a step further. Hope that all makes sense. Other tracks that are my personal favorites include 'Animal House' , 'Gimme Gimme Good Lovin', the awesome ballad 'Make me do anything you want', and 'You keep me rockin'.

This album really helped make Helix more of a household name. I personally really like the rich guitar sound and songwriting on this disc. The good news is that this awesome album is available through the Helix store at Planet Helix.  You can also get the 'Rock You' T-shirt t go along with it. This album comes highly recommended and is essential to any Metal collection. What you waiting for, get yourself a copy!