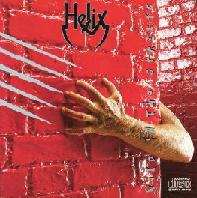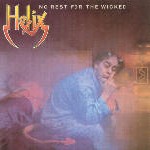 Helix-No rest for the Wicked

             © 1983 Capitol Records

Helix-Wild in the Streets

       © 1987 Capitol Records

Going back to my early days of the genre, Helix was one of those bands I knew would be destined for a very bright future. 'No rest for the wicked' was my introduction to the band and probably my favorite album as a result.

It's no suprise that not only am I a fan of the 80's era, but also a big fan of Canadian metal bands. Canada had one of the most underrated scenes ever. 'No Rest' was one of the strongest efforts in that scene. Opening track 'Does a fool ever learn' sets the tempo immediately with it's big choruses and upbeat tempos. Then there is 'Heavy Metal Love', one of the bands biggest hits to this day. Some of my personal favorites include the fast tempo 'No rest for the wicked', 'Don't get mad, get even', 'Dirty Dog', and the lighter penned 'Never want to lose you'. This album is very consistent from start to end.

The good news for fans of Helix is that most of the music in the back catalogue has been made available on disc after much anticipation. If you are looking at building that back catalogue, start with this album and work forward. Visit Planet Helix by clicking the logo above and check out the Helix store for more info.

Another favorite in the Helix catalogue would have to be the 1987 offering of 'Wild in the streets'. This  album is definitely party rock at it's finest. This album can also be a tad bit hard to find. Let's talk about it.

One of the things that jumped out at me years ago about this album was the guitar playing. It shreds. Some of the solos are just plain exploding adrenalin. Also, this album has a great vibe throughout. Very upbeat album. Opener 'Wild in the streets' gets us going with some good drum pound and thick rhythms. Can't forget about the frontman Brian Vollmer here, he sounds very good. I also like the big chorus gang vocals. Other tunes I think stand out include 'Never gonna stop the rock', the lighter and heartfelt power ballad 'Dream on', the definitive party rocker 'What ya bringin' to the party', the explosive 'High Voltage kicks', my personal favorite and the guitar playing I refered to in 'Shot full of Love', and last but not least by any means, 'Kiss it goodbye' with it's humorous elements. This album is really good with not a weak track on it.

I feel lucky to have picked this one up years ago on disc. Hopefully it will see a reissue. It is fine work and shows a chapter of the band that should not be missed!