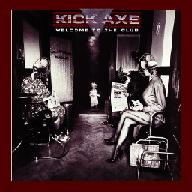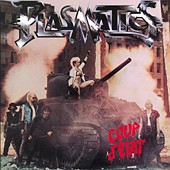 Kick Axe-Welcome to the Club

              © 2001 Rewind Records

The Plasmatics-Coup D'Etat

  © 2000 Razor & Tie Entertainment

'Welcome to the Club' is another of those highly anticipated reissues on my list. I remember discussing this with somebody a few years ago and we both felt that this would probably never happen. Well, thanks to Dane Spencer and Rewind Records, the Kick Axe releases are seeing reissue. Not just reissued though, but reissued very well. The first 2 are digitally remastered and have great liner notes from Jamie Vernon. These notes also were featured in Martin Popoff's book.

With 'Vices' being a rock and roll masterpiece, how is the sophmore effort one might ask?? This album is a slight turn in style and sound, but still has that winning chemistry the band was always known for by a great cult group of fans. The title track 'Welcome to the Club' is a bit groove oriented with great memorable choruses. 'Feels good, don't stop' is another groove rocker and a favorte of mine. 'Comin' after you is a bit more straight ahead and consistent in quality with the rest of the disc. Other favorites include 'Hellraisers', 'Make your move', the heavy rocker 'Too loud, too old'  and the brilliantly sung 'Never Let go'. Covered he as well is the Beatles classic 'With a little help from my friends'. Their rendition is done very well.

The sound quality is very clear and dynamic. With this being another great album from a great band, this album is worth every penny spent. This album is a must have recommendation from the Heavy Metal Resource!

The Plasmatics were one of the most outlandish acts of the early 80's. Wendy O. Williams fronted the band as well as the chaos. This little gem was always a favorite of mine after seeing Wendy on the top of a bus driving through a very large stack of television sets in the video of 'The Damned'. I picked the album up and found it very intense for it's time.

Wendy definitely had a snarl in her voice that was all her own. Check out 'Put your love in me' if you need to know what I mean. If you are a fan, you already know. 'Stop' is another in your face rocker. Without a doubt, my favorite track is 'The Damned'. This tune builds into a frenzy. Plenty of attitude here. Other favorites include 'No Class', 'Mistress of Taboo', and 'Just like on TV'. As an added bonus to this reissue, 'Uniformed Guards', a previously unreleased track is added. I really liked this added track. If you are familiar withthe band but haven't heard this tune, check it out. It fits the album well. Sadly, a few years back Wendy took her own life, but her legacy lives on.

Not sure how big a fan base this band had, but they were worthy of a big one. The Plasmatics were what rock 'n Roll was all about. Intensity, attitude, and aggression. This is a decent reissue. If you like your music with a snarl, definitely get this disc.