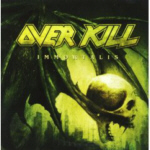 Overkill

'Immortalis'

© 2007 Bodog Music

Reviewed by Dave Palmer

Well, this will probably sound like all of my other reviews for Overkill albums due to the fact that I have found this band to be so consistent and for a very long time. There is no difference here. What you have to look at as a reviewer is the music itself and where I think it fits into their catalog compared to the rest of their stuff. The album is really cool overall. It is a bit of a mix from a sound standpoint. You get part traditional thrash and part heavy vibe but more chunky. This combines the two areas that Overkill has been comfortable in for years. What they don't do is change things up and try to sound new or fit in with the bands of today. And really, why should they. If it isn't broken why fix it. That is where alot of the fans develop a decent amount of respect for Overkill. They don't care what the industry thinks is cool, they care what the band and the fans think are cool. It's a philosophy that has kept them relevant for a long time and continues to keep them in the market. The album opens up with the semi fast 'Devils in the Mist'. With the way this track gets things going, you know right away that it's promising. The album moves along with more great heavy sounds such as the catchy 'What it Takes', one of my favorites 'Skull and Bones', the crunchy guitar sounds of 'Hellish Pride', and the dark sounds of 'Head On'. You also finally get part V of the Overkill titles. 'Overkill V ...the Brand' is another favorite of mine, not only because it's one of the Overkill tracks, but it is one of my favorites in that series of tracks. Anyone who has followed this band for a long time will be familiar with these tracks and the fact that they have been missing on Overkill albums for a very long time. Nice to see them resurface. All in all, this is a very good heavy metal record with some nice speed in areas.

Overall

I really like this record. A good mix of heavy and fast permeate this album and the usual quality is there as well. I found it interesting that this album teamed Overkill back up with Jonny and Marsha Zazula who are now at Bodog Music. You'll know that connection from the earlier days of the band. Definitely like this album and recommend it!

Questions or Comments? Email us by clicking
here
.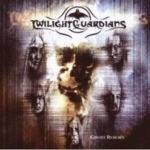 Twilight Guardians

'Ghost reborn'

© 2007 Spinefarm Records

Reviewed by Dave Palmer

My first exposure to Twilight Guardians is with their latest release 'Ghost Reborn'. The music this band plays is melodic metal with a slight progressive twist. Nothing on this album really gets overly heavy although it is heavy enough to be classified as a metal release. I believe this is the bands 4th album overall and was released this November through the Spinefarm  labels. The album starts out with the track 'Glass Chains'. This song has a sound that reminds me of 80's era Deep Purple. This would be mainly in the combination of keys and guitars. Lots of melody on this track and it definitely picks up from there. The album stays pretty consistent for a few tracks and the melody seems to climb to higher peaks closer to the middle of the album. This is where I think the album is at it's best. The almost progressive nature of 'The Game' which is also featured as a video, is where I think this kicks off. It continues through tracks like 'Bring it On', 'Walk This Line' and 'The Weight'. The latter has some very cool chugging rhythms. This album definitely displays balance in the melody and heavy areas to offer up the best possible listen. The album tends to stay consistent the rest of the listen from track 4 on. The first few songs sound run of the mill for what you hear coming out of the European market.  The band doesn't really get stuck in that one sound which I think benefits the album greatly. Those first few tracks are good, but I think the rest are great. It really is hard to keep up with the bands in the foreign markets. There are so many of them and alot of them are really good. This is the type of music you don't hear much on our shores which is unfortunate. I think that it's definitely worth searching bands like Twilight Guardians out. You'll be glad you did.

Overall

Very good album from a very good band. The album starts off good and gets even better from the fourth track on. The band is heavy although it never gets to the point of power metal. The band instead deliver a more melodic sound mixed in with their heavy sound. This band doesn't necessarily fit into a classification in today's music. Just know that there is old school, melody, and great songwriting and you'll get the point.

Questions or Comments? Email us by clicking
here
.