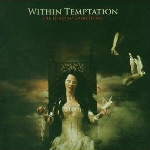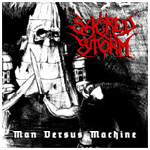 Within Temptation

'The Heart of Everything'

© 2007 Within Temptation

Sacred Storm

'Man Versus Machine'

© 2007 Sacred Storm

Reviewed by Dave Palmer

My introduction to this band was with the band's previous effort 'The Silent Force' and I gotta tell you, I really like this band.  Within Temptation in ways is similar to Nightwish. There is a female fronting the band and they are both a type of symphonic power metal. 'The Heart of Everything' to me is what 'Once' was to Nightwish. Kind of a defining album in the bands career. I say that not from a standpoint that the band has changed their sound up alot, but more from the point that the band has written an album that is at the top of their game. This album is pretty accessible and with radio promotion, could do quite well. It could appeal to the Evanescence crowd as well as Lacuna Coil fans. The album opens with 'The Howling' which is a very solid track. There are 2 versions of 'What Have You Done' which features Life of Agony's Keith Caputo. The first is the second album track and is a U.S. single version while the second version is extended and closes the album out. It is a very solid track and could do well at radio. There are some other great tracks such as 'Frozen' which is also the subject of a video. 'Our Solemn Hour' has a really big vocal presence. I love the Gothic flair this band has as well. 'Hand of Sorrow' is very cool with it's over the top production sound and melody. 'The Cross' has a great tuned down guitar crunch with soaring vocal work. 'All I Need' is a great melodic number that maintains a lighter sound throughout. 'Stand My Ground' is another that I would send straight to radio. It has some decent commercial appeal. Finally, 'The Truth Beneath the Rose' has a great large production sound. This album to me is really consistent and has alot of potential. Definitely one of my favorites of 2007.

Overall

Very cool stuff. Fans of Nightwish or Leaves Eyes are probably gonna dig this female fronted band quite a bit. The album is pretty consistent and has alot of potential of making Within Temptation much more well known if promoted right. One of the great releases of 2007 so far. A great Gothic production sound makes this one come recommended!

Questions or Comments? Email us by clicking
here
.
Reviewed by Dave Palmer

We took a look at Sacred Storm's 2 track demo awhile back. The band showed their chops and what they might be capable of in the Thrash scene.  The band to me is a bit more power metal actually, just has a slightly more raw sound than some of the more well known power metal acts. 'Man Versus Machine' consists of 10 tracks of even tempo metal stuff. The band seem comfortable in a certain tempo with raging double bass beats. This album had me feeling right at home as it reminds me alot of the good old days of bands such as Hallow's Eve. Vocally the band is a bit gruff in places, but nothing I would consider death sounding. The album opens with the title track 'Man Versus Machine' and continues to plod along with that tempo that I mentioned before. I really dig that classic metal sound in the guitars. This is definitely part of the driving force in this band just like it was in the old school days. For those that like more of a background on a band, Sacred Storm hails from Anaheim, California. The band is a 4 piece and consists of Kenny Krenzin on vocals and guitars, Lux on the drums, Dave Maciel on the bass, and Everett De Bree on guitars. Songs that I liked best include 'Man Versus Machine', 'Thunderchariot', 'Zero Theory', 'Everflow', 'One Thousand Suns', and 'Rise of Power'. A few of those tracks can be heard on the bands Myspace website which you can get to by clicking
here
or the link below. I think the band has done a good job with their first full length album. It's a great start and shows what this band is capable of. I'm also sure that if they keep at it, they will grow in time and could make a mark on the domestic scene as well as the scene overseas. Heavy dark stuff.
Overall

Good heavy release from this so. California based band. The album has a good consistent sound which is somewhere between power metal and thrash. Vocals are gruff in places, but nowhere near what death style bands put across. The band have put together a pretty decent first album and could make a decent mark on the scene. Nice job!

Questions or Comments? Email us by clicking
here
.