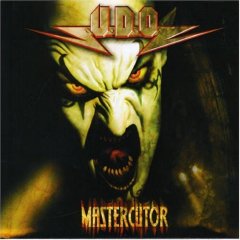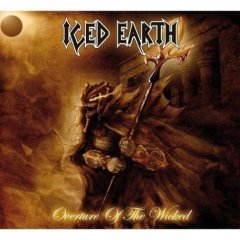 U.D.O.

'Mastercutor'

© 2007 Candlelight Records

Reviewed by Dave Palmer

There are always some musicians that you can count on to deliver things with consistency. No changes in sound, only minor differences due to technology advances. Udo Dirkschneider, former singer of the mighty metal band Accept is one of those. It is mind numbing how solid and consistent U.D.O. has been. I can't think of too much negative to say about anything I have heard from his solo career or the Accept era. Top notch traditional metal for sure. The latest album 'Mastercutor' is another metal feast with some great grinding tunes with those unmistakable vocals. The album opens up with the title track which as cliche as it sounds, setting the pace for the rest of the album. This album may not be the fastest or heaviest album to date, but it should have very large appeal to fans of his music. I set the sound of this album somewhere around Accept's 'Russian Roulette' album. Lot's of similarities. If you played this for any Accept  fan and didn't say much about who it was, it's a good guess they may say Accept. This isn't due to the vocals alone either. It is amazing how much the guitars sound like that classic Accept grind. All in all, this is very good stuff here. Some of my favorite tracks include 'Mastercutor', 'Wrong Side of Midnight', 'The Instigator', 'Walker of the Dark' which is slightly redundant, but kicks so much ass in terms of sound. I also like 'Master of Disaster' which is probably the heaviest track in terms of tempo. The two lighter sounding tracks are decent too. 'One Lone Voice' and 'Tears of a Clown' offer a bit of balance to the album. 'The Devil Walks Alone' is amazing as well. Nothing overly fancy on this album. It's all about metal and the attitude that came with it years back. This is one of my favorites of the year so far.

Overall

Great stuff! What else can you say. Udo knows what drives his fan base, it's obvious. He has one of the most consistent catalogs in rock and metal today. 'Mastercutor' is a very worthy addition to that catalog. Metal fans rejoice! This is definitely A+ stuff here. Obviously highly recommended!

Questions or Comments? Email us by clicking
here
.
Iced Earth

'Overture of the Wicked'

© 2007 Steamhammer Records

Reviewed by Dave Palmer

Iced Earth always seems to offer something good in my opinion. I was a bit of a late bloomer with this band. I cam in at the tail end of the Matthew Barlow era. I did however backtrack into the bands catalog and found alot to like. 'Overture of the Wicked' needs to be explained. What it is and why. The band decided to release an ep of new and re-recorded material before the bands next full length album. The new track 'Ten Thousand Strong' is a very good track and features Tim 'Ripper' Owens on vocals once again. Also on the album is the 'Something Wicked' trilogy from 1998's 'Something Wicked this way Comes'. If you are familiar with the original version of this trilogy, you should check this out. It is worth noting that once again the rerecording features Owens on vocals. This all precedes the new album 'Framing Armageddon' which is 'Something Wicked' part 1. The sci/fi fantasy story of Something Wicked will be told in two parts and much more in depth. Watch for that coming this fall. As far this ep, it's obviously very cool, but very short. It definitely wets the appetite for the forthcoming material and might hold some of you over for the bigger story later.

Overall

Pretty solid ep from a solid metal band that has definitely made their mark on the metal scene for many years. It will be exciting to see where the band heads musically with the next 2 albums. If this gives us any idea, it should be worth looking forward to!

Questions or Comments? Email us by clicking
here
.