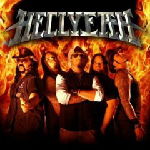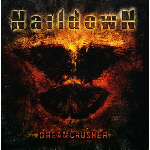 Hellyeah

'Hellyeah'

© 2007 Epic Records

Naildown

'Dreamcrusher'

©2007 Spinefarm Records



Reviewed by Dave Palmer

I was really glad to see this. After the tragedy that happened to Dimebag Darrel and the fact that I wasn't sure where that was gonna leave Vinnie Paul for obvious reasons, I was hoping that the healing could take place and that we would once again get to see Vinnie pounding the skins. The new band is called Hellyeah and as one would expect, it's heavy and over the top metal. Similar in ways, especially from an intensity standpoint to Pantera or Damageplan. Maybe a little closer to the latter or somewhere in between the two if you like. The album contains 13 tracks and features other members Greg Tribbett on Guitars, Jerry Montano on Bass, Maxwell on Guitars, and Chad Grey on Vocals. The attitude is fairly typical of what you would expect from Vinnie Paul, lots of stuff about booze and stuff like that. The album to me is pretty consistent in terms of overall sound. In some ways this band has a sound that transcends time. It has a bit of a modern sound to it, but at the same time never loses sight of where Vinnie Paul has been in the past. Songs that I took a liking to include 'Hellyeah' which really sets the pace for the album from the get go. 'You Wouldn't Know' is another favorite which combines aggressive nature with catchy feel. I like the feel and attitude of 'Alcohaulin' Ass' although it comes across a bit cheesy. I like the sound of 'Star'. This tune is one of the more instantly memorable tunes on the disc. 'Thank You' would be the most melodic of the bunch if there is such a thing. Has a bit of a dark feel to it. I also liked 'One Thing'. Good heavy closing track. There is one bonus track on my version of the album. An acoustic version of Alcohaulin Ass'.

Overall

A very cool record indeed. I'm really glad to see Vinnie Paul back in circulation after the tragedy that he and the world of Metal went through with his brother. I feel this is a great way to come back to the scene. The album is solid, especially if you have been a fan of his projects in the past or are just a Metal fan in general. Good stuff!

Questions or Comments? Email us by clicking
here
.
Reviewed by Dave Palmer

This album grabbed my attention in a hurry. I have become a pretty big fan of the Spinefarm stuff in the past couple of years. Naildown is one of the best of that bunch that I have heard. It's very hard driving metal in the vein of bands like In Flames or Children of Bodom. There seems to be a pretty good scene overseas for bands that fit into this genre. It would be safe to say that if you like those two bands, you will want to check Naildown out. The band is not a clone of either however. There are elements that are all their own. They can be pretty abrasive vocally if they want to, but do have a pretty good cleaner vocal style. Adds a bit more melody to the music. That is where I would draw the comparison to In Flames. 'Dreamcrusher' has alot of consistency to it. I really didn't find much of what I classify as filler on it. The album was written and put together very well. One thing that alot of the songs have in common is a very heavy low end. The music has a nice hard drive to it, but also maintains some melody due to the keyboard work and as mentioned the vocals. Looking at my favorite tracks as I always do, I would include the opening and title track 'Dreamcrusher'. Also, 'Judgement Ride' is awesome. Love the very aggressive low end at times in this track. It really drills it to you. 'Lame' is anything but that. This song is a favorite to me due to the guitar rhythms. I love the sound of that mixed with the keyboards. Very nice feel. I like 'P.I.B.' for many of the same reasons I like the first two tracks. Just good aggressive stuff. 'Silent Fall' is great due to it's catchy nature. I also like 'Deep Under the Stones' which is the album oddball. It's the song I would say that grabs the most depth and it's the lone instrumental track. I also like 'The New Wave'. Just a good straight forward rocker.

Overall

This is a very good release and will have alot of appeal to you In Flames or Children of Bodom fans as well as fans of Metal in general. The album is consistent with alot to like overall. There is a good mix of hard driving guitar, keyboard, and a thunderous low end. The only down side if you had to name one is the fact that there are 9 tracks. When it's this good, you want much more. not much of a complaint though and this definitely comes recommended!

Questions or Comments? Email us by clicking
here
.