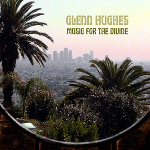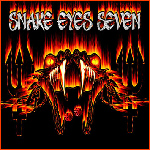 Reviewed by Dave Palmer

Glenn Hughes at this point in time really needs no introduction. The man has one of the most soulful voices in rock and has built quite a lengthy career for himself. It seems he feels very comfortable in a rock/funk vibe. His voice wraps around this type of sound very well. His latest effort 'Music for the Divine' continues in that general direction. While this album definitely has a heavy Funk presence fused with Rock, it is not totally about that.  Almost, but not totally. Hughes does an amazing job and combines some really cool elements to make each track catchy and leaving the listener wanting more. The album opens up with the rocker 'The Valiant Denial'. From there, the Funk kicks in pretty hard with tracks like 'Steppin' On' and 'Monkey Man'. By the time you reach 'this House' you start to get more of a basic rock sound. This track is raw and fairly mild in tempo. Almost Beatles-esque. 'You Got Soul' continues in the more uptempo feel while things slow a bit with the moody sounding track 'Frail'. Another favorite of mine on the Funk side of things is 'Black Light'. From this point on things base more in rock or maybe even a lighter rock sound. I think the album has a pretty good feel to it. There are definitely memorable moments. Overall, I am pretty happy with what I hear on 'Music for the Divine'. You can tell that Hughes has alot of creativity left in him. Nicely done for sure.

Overall

A decent effort from one of Rock music's legendary vocalists. You can see Hughes passion for Funk with this release. It's not all based in Funk, but there is an obvious presence here. The stuff that isn't Funk based is done equally well. All in all I find there to be a good mix of tunes with nothing getting very heavy. The catchiness is one of it's best attributes. Very nicely done as usual!

Questions or Comments? Email us by clicking
here
.
Glenn Hughes

'Music for the Divine'

© 2006 Demolition Records

Snake Eyes Seven

'Snake Eyes Seven'

© 2007 Chavis Records

Reviewed by Dave Palmer

If you are looking for a dirty sounding raw hard rock album, look no further then Snake Eyes Seven. These guys pump the tunes out the old school way. I know their is a core of fans out there that have been longing for music done in this fashion. I have had a passion for Canadian metal acts in the past and it seems that Snake Eyes Seven are going to be among them. What makes this package even better is the fact that Victor Langen is the bassist/vocalist of this band.  Some will know of him due to his involvement with another Canadian great, Kick Axe. On Lead vocals and guitars is Daniel Nargang from Into Eternity. Love Hunter's Johnny Bland hits the skins and Cole 'The Madman' Stevens handles guitar as well. These members bring a variety of influences into this band and what you get from this is some heavy hitting traditional sounding metal. There is a dark vibe to each track and most are pretty consistent and sound from the same mold. The production on this album gives it a fairly raw feel. I wasn't sure what to expect from the album as I thought this may have been a younger band in age, but was quite pleased at the sound as well as the members that are Snake Eyes Seven. As far as tracks that I consider cool, I would probably mention 'Hell or High Water', 'Bitter Pill', 'Be Leaving', 'Bullets & Booze', 'You're to Blame, and 'Photos of th' Dead'. A pretty decent effort in my opinion.

Overall

I like quite a bit of this album. It has a bit of a dark feel to it and quite a traditional metal sound as well. The band features some veteran members that work in other established bands as mentioned above. If you are looking for something that doesn't really have ties to modern metal, this one is a good bet!

Questions or Comments? Email us by clicking
here
.