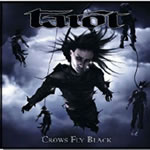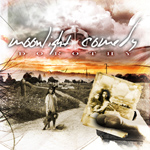 Tarot

'Crows Fly Black'

© 2007 Nuclear Blast Records

Moonlight Comedy

'Dorothy'

© 2007 Lion Music



Reviewed by Dave Palmer

With Nightwish in the hunt for the bands new vocalist and Marco Hietala's involvement in that band, I thought it would be a great idea for the tarot to get another album to the fans. Obviously Tarot is Hietala's longtime project, but his involvement with Nightwish has become equally as big. 'Crows Fly Black' is the bands latest album that I just mentioned was released very recently. I have to say that I hadn't heard alot of Tarot up to the 'Suffer Our Pleasures' album, but that album was enough to get me really hooked and really excited for more new material. This latest album is a pretty solid affair in my opinion. Maybe not the bands heaviest release, but the tones on this album bring out a different type of intensity. This is very obvious from the first and title track 'Crows Fly Black'. Still heavy, yet there is a slightly modern feel to the guitar sound. It's all Tarot however so don't get nervous about that. The track 'Ashes To The Stars' is also the subject of a promotional video that is on the album version that I have. Very cool guitar sound on this one. Speaking of bonus material, this version also has a cover of the Blue Oyster Cult classic 'Veteran of Psychic Wars' which they nail perfectly. Being a big B.O.C. fan, this album would have been worth it for this cover alone, but it really ends up being the icing on the cake. This album is really solid the whole way, but where I feel it picks up quite a bit is at the track 'Tides'. From this point there is alot of atmosphere. There is even a bit of groove with the track 'Bleeding Dust' which is a personal favorite. 'Howl!' is another solid outing. Some acoustic and some electric make this one cool. 'Grey' injects a bit of melody with a bit of mood. Works really well.

Overall

Not sure how some fans will react to the bit more modern sound that 'Crows Fly Black' has. I don't mean this in an experimental sense either. This stuff is pretty powerful in my opinion and goes for depth with the intensity. There's alot to like with 'Crows Fly Black'. Definitely try to dig up the version with the bonus track too. Highly recommended!

Questions or Comments? Email us by clicking
here
.
Reviewed by Dave Palmer

With the amount of music I check out and get the opportunity to review, it really is amazing to me if you can remember what distinguishes one band from the next. I remember listening to previous Moonlight Comedy stuff and being pretty impressed. The band had made enough of a mark on me to remember them and their sound through all of the various albums and artists that come out. 'Dorothy' is obviously the bands latest and has some pretty cool things happening on it. I have never felt that this band is too over the top due to their progressive influence. The band offer up a more subdued flash if that makes any sense. Maybe discipline is more of what I am looking for. They get down to business, but I never found them overdoing things. The melodies and songs lead the way with the instrumentation being a vital piece of the recipe. Not the other way around. The electronic elements in this album are very cool and add alot to the compositions as well. There is also a consistency throughout this album. Causes the album to flow well. Each track however does have a personality which is important so things don't sound too much alike which can be exactly what happens with bands in the progressive genre. I didn't read this anywhere, but the album has a bit of a conceptual feel as well. Wouldn't be all that surprising as the band members consider and call themselves actors, actors in the Moonlight Comedy.  If you like your music with some good subject material along with an amazing amount of technical proficiency ala Dream Theater, you might really like this band.

Overall

Definitely in the progressive vein although not the flashiest of the Progressive bands I have heard. Moonlight Comedy appears to prefer good songwriting over showing off which is really nice as some bands let it get out of hand a bit. This album flows well with a few cool surprises in the sound of it. Nicely done!

Questions or Comments? Email us by clicking
here
.