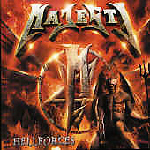 Majesty

'Hellforces'

© 2006 Locomotive Records


Sideburn

'Archives'

© 2005 Sideburn



Reviewed by Dave Palmer

'Hellforces' is the third album by Power Metallers Majesty. The band plays their Metal in more of a true Metal format such as bands like Manowar or Lost Horizon. If you are into those bands, it's a good bet that this band will be for you. The music is catchy yet heavy and uncompromising. It is also very consistent and flows well. Tempo and intensity only swing slightly either direction. Gives the overall listen a nice uniform feel. Where alot of the music  sounds like true Metal, there are a few tracks that remind me of other types of bands. Take 'Like a Raptor'. With the gang vocals this one reminds me a bit of Accept. Tracks like 'Guardians of the Dragon Grail' remind me of Rhapsody. I also like the more melodic nature of the track 'Freedom Heart'. Some of my favorites from this album are already listed. Along with those, 'Hellforces' is really cool and a great way to get it all started after the intro titled 'The Blessing'. I liked 'Sons of the New Millennium' as well as 'Fight Forever'. The album closer 'Metal Law 2006' is really good as well. Good heavy stuff. This album will have appeal in my opinion to fans of traditional metal as well as those mentioned above that dig what we like to classify as 'True Metal'.

Overall

A pretty decent power metal album. The music is in the vein of bands like Manowar and true Metal acts like that. 'Hellforces' is a pretty uniform listen with not alot to dislike on the album. It's heavy, but never gets to over the edge to get away from the traditional sound of Metal. Good Stuff indeed!

Questions or Comments? Email us by clicking
here
.
Reviewed by Dave Palmer

Anyone has been reading reviews at this website knows that we definitely like Sideburn. The band in terms of style fit somewhere between AC/DC and Rose Tattoo. This album is a compilation album that goes back to the days when the band was known as Genocide from the early 90's. The band are known today as Sideburn obviously, but do have a decent catalog from both eras to draw from for this release. The album has 18 tracks total and in my opinion offers up a very good listen.  Some of the earlier stuff seems to be on the heavier side, but I think the band have a comfort zone now with the more raw sounds that they embrace now. I actually like the more current music a little better than the earlier stuff although the early stuff is pretty decent as well. This album is a decent package to throw in the car if you want to take the best variety and probably the best of the bands stuff. Some of my favorites that were included on this compilation include 'Sign it in the South', 'Never Kill the Chicken', 'Crocodile', 'Nostalgic Harmonies', 'Voodoo Girl', 'Hell on Wheels', and 'Get that Way'. I also liked the inclusion of 'Up Around the Bend' which is always a classic. If you are a fan that may be interested in this band, this is definitely a good way to get an overall fell for where this band has been and where they are currently.

Overall

A very good compilation from a very cool band. This really covers alot of ground and shows the band's sound as where it was and where it is today. It is a good cd to pack around in my opinion as alot of compilations are. With 18 total tracks, this album offers some good bang for the buck. Very cool compilation!

Questions or Comments? Email us by clicking
here
.