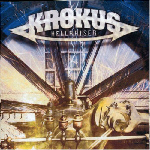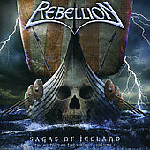 Krokus

'Hellraiser'

© 2006 Locomotive Records

Rebellion

'Sagas of Iceland'

© 2006 Locomotive Records

Reviewed by Dave Palmer

There are really two points I would like to make to start off this review. The first, I have been listening to this band for a very long time now. Krokus was one of my early favorite bands upon listening to rock and metal. Second, you can be missing alot of the core early guys in a band like this, but as long as you have that familiar voice, all is well...usually. With the case of 'Hellraiser' which does feature Marc Storace, that sound is definitely intact. I believe that the general consensus surrounding this release is the fact that there are some elements in the music that take you back to earlier in the bands career. When I had asked someone what the band sounded like early on, AC/DC was mentioned. In some ways, or should I say at certain times I would agree with this notion. There are times on this album where the band sounds that way which is really cool. This is what is meant by mentioning that the band sounds a bit like they did in the past. The opening and title track is one of those. I also thought that the track 'Too Wired Too Sleep' reminded me of Dirty Looks. All in all though, this is a good Krokus album with more then it's share of good rock based tracks. Some of my favorites include the title track obviously and as mentioned, 'Too Wired Too Sleep', 'Hangman', the very cool 'Fight On' which is probably my album favorite, the cool vibe of 'Midnite Fantasy', 'No Risk No Gain', and the closer 'Rocks Off!'. This is just great getting back to basics rock and roll from a great veteran band!

Overall

This is a great rock record that gets back to what traditional fans have been missing so much. It's all about loud guitars, typical rock oriented subject material and great musicianship. Oh, and don't forget the melody. A very cool rocking album from a band that I hope keeps going for a long time to come! Recommended!

Questions or Comments? Email us by clicking
here
.
Reviewed by Dave Palmer

Albums such as Rebellion's 'Sagas of Iceland' are very ambitious ventures. I say this as there are some important elements that define whether the album comes off successful or not. I think this album does a nice job of meeting this. The elements I am talking about include a visual sound. This album has some strong historical content in it and to further enhance it, the visual nature of the music needs to be there. With this album, I feel that it is. For those not aware of what the subject of the tuneage on this album is, it covers the Viking era and alot of the big names involved with it. It's pretty cool stuff, but once again you really have to understand the history behind it if you are going to tackle it from a songwriting standpoint. The music on this album is quite heavy. It would be considered Power Metal as far as I am concerned. Well, probably as far as most would be concerned. The album flows very well in terms of intensity. There is a track or two that starts off with slower tempo, but builds into a more heavy listen which is cool. If I was to try to nail down the bands sound in terms of who they remind me of, I would say they have a similar approach as Manowar with a finesse heavy sound such as Iron Maiden. Not to say they are a ripoff of either. The band have their own unique stamp on their music which carries very well. As far as personal favorites, I like how the album opens with the track 'Ynglinga Saga (To Odin We Call)' which is preceded by an intro 'In Memorandum Lindisfarnae'. I also like 'The Sons of the Dragon Slayer (Blood Eagle)'. Good heavy track. I like the more subdued track 'Treason' which shows another side of the bands writing. 'Ruling the Waves' is really cool from a vocal standpoint. Definitely a stand out track. I also enjoyed 'Canute the Great (The King of Danish Pride). This is one of the best the album offers in my opinion. It flows well overall and the album displays some good quality.

Overall

A very good theme filled album that is based on the history of the Vikings. The music is delivered quite well with the style being based in a Power Metal style which isn't a complete surprise as there are some former Grave Digger members here. The band add a visual element to the music. If it feels like a bold moment, then the energy is definitely there. Very cool traditional metal. Good stuff!

Questions or Comments? Email us by clicking
here
.