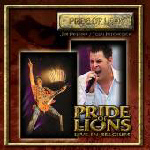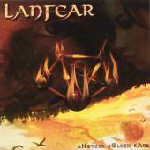 Pride of Lions

'Live in Belgium'

© 2006 Locomotive Records

Lanfear

'Another Golden Rage'

© 2006 Locomotive Records

Reviewed by Dave Palmer

So everyone is probably going to be familiar with the rock sensation Survivor. Well, if you liked that band, you'll more than likely enjoy the latest band Pride of Lions which features Jim Peterik on vocals and Toby Hitchcock on guitars. It's the same basic style that made Survivor great. Melodic rock that gives you a punch once in a while. This particular album actually gives us some familiarity with some of Survivor's greatest tracks to date with 'The Search is Over' and 'Eye of the Tiger' to name just a few. The first disc is the concert live footage recorded in Belgium obviously and the second is some new studio footage from the band that is melodic rock and fairly consistent as mentioned with what Survivor has done in the past. You get seven studio tracks total and all are fairly consistent I felt. One track appears on both discs. 'Black Ribbons (Voices of the World0' appears live and studio and both versions sound amazing. This is a pretty good tune and represents the new studio material very well in my opinion. Jim Peterik is highly regarded in the music world and Pride of Lions should have some sort of impact. Hitchcock I was less familiar with, but his music resume is decent and he compliments Peterik very nicely in this band. Pride of Lions is a band that is less about flash and more about great tunes. They can pull off a ballad as well as a rocker which gives them decent balance as a band. This is a nice set and for some, maybe an intro to this band if you haven't checked out any other studio material at this point. I

Overall

The above review about sums it all up. This is going to be a very familiar sounding band to alot of melodic rock fans. With the amazing vocal ability of Jim Peterik and the great guitar playing of Toby Hitchcock, you can't really go wrong with this band. It is important to point out that this is a live release. There is a bonus disc in the set I have that has seven studio tracks as well. If it is melodic rock you seek, this one is a good point, especially if you like it live.

Questions or Comments? Email us by clicking
here
.
Reviewed by Dave Palmer

Lanfear is another of those bands that was fairly new to me. If I was to try to describe their sound, it would be quite a bit of power metal with maybe a tough of progressive or maybe even neo-classical. It is definitely leaning more towards the power metal sound overall though. The album asserts itself in a hurry with the opening and title track 'Another Golden Rage'. This is top notch power metal here. The album flows well with a pretty even tempo. It goes this direction pretty much until you hit the track 'Eternally' which has some deep rich tones and a bit more depth. Most of the album is about rocking it all out. There is also a bit of balance with melody, but the tempo of these songs is definitely quicker. In some areas of the album there is a slight progressive feel to the keyboards. I mentioned this element before, but the music lends itself more to a driving low end and some precision riffs that come across nice and tight. I really had not heard much from these guys to compare to, but I'm quite sure after hearing what this band offers that they will please traditional and power metal fans alike. My personal favorites include 'Another Golden Rage', 'Transmigration', 'Shades of Black' and the instrumental 'Eclipse' that precedes it, the already mentioned 'Eternally', and 'Outliving the Ages'. It's nice to see labels like Locomotive bring these type of bands to our domestic scene as they have alot to offer especially to the more traditional fans. It's precise, intense and what every metal fan respects in a power band.

Overall

This is a very good power metal record. this band brings some great songwriting, precision playing, and enough intensity overall to make fans take notice. The album offers a nice uniform listen in terms of tempo. I think there is enough here to really make this band noticed on a decent level in the domestic market, but that is if they get some attention in promotional areas. Good heavy stuff.

Questions or Comments? Email us by clicking
here
.