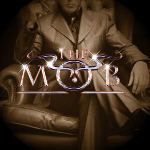 The Mob

        'The Mob'

© 2006 Frontiers Records

Reviewed by Dave Palmer

You can tell that the music scene has been warming up when you hear bands like The Mob churning out great melodic hard rock tunes. It should really be no surprise when you understand that this band has members like Doug Pinnick from King's X, Kelly Keagy from Night Ranger, Reb Beach from Winger, and Timothy Drury who was bandmate of Reb's from Whitesnake. With that lineup, it should be crystal clear. What you get with The Mob is some great guitar driven rock with a melodic edge. You are definitely going to get flash in the guitar playing considering you have Reb Beach handling those duties. I found it interesting hearing Doug Pinnick in this band. I am used to his vocal work with King's X. He has one of the more unique vocal sounds in the business and adds a certain vibe to this record. Kelly Keagy, true to fashion as was with Night Ranger, handles vocal duties on the melodic track 'The Magic'. Pinnick does an equally good job with 'I Want to live Forever'. Just not used to hearing him do this sort of thing, but it was a nice surprise. Reb gives us a very cool guitar solo called just that, 'Guitar Solo'. Short and sweet and effective. Most of the music on this album is based in your typical tempo for classic hard rock of the 80's with only a slight swing either way. If you have been missing the sounds that commanded and era of great music, look no further then The Mob!

Overall

This is a very good melodic hard rock record that features members of King's X, Night Ranger, Whitesnake, and Winger. Melody really reigns through each song with some good flash in the guitar playing. This is the very kind of music that has been missing domestically for some time. It's all coming full circle at this point. If you haven't heard this band yet, do give them a listen. It's good stuff.

Questions or Comments? Email Dave by clicking
here
.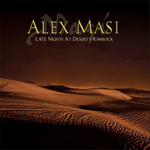 Alex Masi

'Late Nights at Desert's Rimrock'

                © 2006 Lion Music

Reviewed by Dave Palmer

Here is a musician that doesn't really need an introduction. Alex Masi has been releasing music now for a very long time in solo and group format. Obviously this latest release is going to be a guitar instrumental release. Along for the ride is one of the busiest drummers of this day, John Macaluso. Between the two, they handle everything you hear coming from your two speakers which is quite impressive. The album contains 12 tracks of technically proficient rock based music. There are some very interesting titles on this album such as the opener 'Vagina Denata' or 'Asparagus Piss' with the latter sounding as odd as the song title. Kind of a frenzy of guitar riffs and solos. Most of the music on this album has an atmospheric feel to it. While we understand that Alex Masi can really shred, I found it interesting that he went more for the disciplined approach. Letting the guitar act just above what I would consider an equal to the other instruments being used. There seems to be a bit more equal drive from the bass and drums as well which creates nice balance to the overall feel of the album. As Alex Masi does have a loyal fanbase which is evident by his tenure in the business, it is also going to be clear that due to this being an instrumental, this is gonna appeal more to a base that appreciates this type of thing. I think that if you go into something such as this with an open mind, you will enjoy the musical journey. Let the guitar handle what would be areas of the track that vocals would normally handle, and let everything balance out. A definite guitar legend in our time.

Overall

Alex Masi delivers another sophisticated instrumental release that showcases a bit more then just guitar playing. Masi handles all duties on this album with the exception of drums which are handled by John Macaluso. There is a nice balanced feel to the album that makes it flow well overall. If you like instrumental guitar work, you know Alex Masi will deliver and are probably interested in this before you read the review. Nonetheless, technically proficient stuff here.

Questions or Comments? Email Dave by clicking
here
.