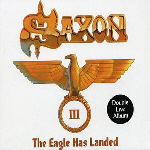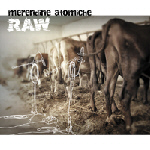 Saxon

'The Eagle Has Landed - III'

  © 2006 Steamhammer Records

Merendine Atomiche

              'Raw'

© 2006 Mausoleum Records

Reviewed by Dave Palmer

My intro to Saxon was 'Power and the Glory'. I still that is one of the bands very best releases even all of these years later. At that point in time, I went into the bands back catalogue and got into alot of their earlier stuff. I remember hearing the original 'Eagle Has Landed' and enjoying that live release equally as well. Fast forward to today and the bands latest 'The Eagle has Landed III'. In some ways I guess it is similar to the Kiss 'Alive' approach. I found this latest release to be one of the bands best live recordings due to one thing in particular. We identified my love for the early stuff and that is precisely why I enjoy this set, it includes alot of old stuff that the band did not frequent much in their concerts through the years. Tracks like 'Redline', 'Suzie Hold On', 'To Hell and Back Again', and 'Crusader'. Even going back further is 'Frozen Rainbow'. It's really nice to see this stuff be included as some of those are all time favorites of mine from this band. This is all on the first disc. As you get to the second disc, we get some of the newer music from the 'Lionheart' album and others. I was very happy to see 'Broken Heroes' added to this disc as I was a big fan of the 'Innocence is no Excuse' album. One thing that is worth mentioning about this album is that it is recorded all over. This isn't a concert recorded in one venue. The band gives the listener alot of different feels from different part's of the world. It's a pretty well rounded live release track wise and a good representation of where the band is at in the modern day. They still sound great!

Overall

There isn't alot to say about Saxon that hasn't been said many times before. These guys are legends of the NWOBHM and will always be looked on as influential for the work and consistency they have done through the years. This release has a very good mix of tracks, some that the band haven't played much or haven't played in a very long time. Very cool live release!

Questions or Comments? Email Dave by clicking
here
.
Reviewed by Dave Palmer

Here is a band I knew absolutely nothing about. I saw a press release and decided to do a little research on them. I found that there was some good positive reviews and support, so after hearing things like that I was definitely convinced they were worth checking out. The bands latest effort 'Raw', due out in August '06 here in the States is definitely worth talking about. This band isn't just your traditional thrash type of band. They are a bit deeper in their songwriting than that. Sure, they can get down to business, but don't restrict themselves to just a thrash classification. I will agree however that alot of this album is based in more of a thrash or power metal sound, but the melodic edge I think adds a dimension to the big picture. The album opens up with a short vocal intro and rips into the first track 'In the Cage'. The intro on that track is offered from Jack Frost. Yeah, you know the guy, Seven Witches, etc. Anyway, this first track had me thinking Prong right away. From there, it is consistently heavy and has a very good vibe up to the point where we catch the melodic edge with the track 'Peace Means War'. This tune opens up with some very nice sounding acoustic guitar that eventually turns into more of a crunchfest as the tune gets heavier. The most melodic tune on the album is 'Ocean's Shadow'. Listening to this song shows you how well rounded this band can be. The track 'Zero Degrees' reminded me of something you would hear on a Fates Warning record. Overall though, it's about the big riffs and slammin' tempos. This band is definitely a contender in the world of metal, and with 'Raw' maybe they can gain a legion of fans on our shores. They definitely have the goods to make it happen!

Overall

If you are looking for some very good heavy, but not brutal metal, this band from Italy is very solid. This release has some very good heavy moments as well as some melodic mix added in to offer a well rounded listen with a bit of variety. The band have a nice gritty guitar sound and tend to be very catchy in the riffs. I think this release has the ability to get this band noticed even more than they already have. Another Resource recommend!

Questions or Comments? Email Dave by clicking
here
.