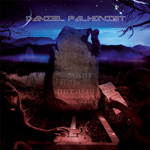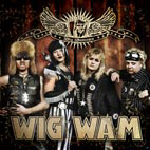 Wig Wam

  'Wigwamania'

© 2006 VME Records

Reviewed by Dave Palmer

For those of you who can't deal with the modern sounds of today's rock, I have a treat for you. Wig Wam is the Norwegian band that one the 2005 Eurovision competition. 'In My Dreams' was the track the band performed at the event and for those who aren't aware of what Eurovision is... it's similar to American Idol here in the States. Guess it shows the difference in musical climates huh? Well, now that we've laid that down, let me explain this band to you. They are a melodic hard rock or glam style band that writes very infectious tunes. There is also a tongue in cheek side to Wig Wam. Don't take them too seriously, but it's not to the point of Spinal Tap. as far as the band musically, these guys are really good. They have generated quite a buzz with their first release which hasn't been out a real long time, 'Hard to be a Rock 'n' Roller'. I think the band has strengthened their sound with 'Wigwamania'. The tunes are basically as infectious as the previous album, but also have a bit more depth. The quality however is consistent with 'Hard to be a Rock 'n' Roller'. If you like the disc, I think you will be more than happy with this one. As far as the music is concerned there is alot to like track wise. The album has a great opener with 'Wig Wamania' that leads to the rocker 'Rock My Ride'.  It's a great pacesetter and shows where the band is at from there. Other tracks that impress include  'Slave to your Love', 'Bygone Zone' which reminds me of Pretty Maids in ways in the music, 'Dare Devil Heat' which is probably my favorite track, 'The Riddle' which is the albums instrumental, and the album closer 'Breaking all the Rules'.

Overall

Avery good hard rock album by a very good band. These guys are like the great new hope for melodic rock as far as I am concerned. Sure, there are lots of great AOR style bands, but when it comes to straight up melodic hard rock, these guys are at the top of the game. Without a doubt, a highly recommended title!

Questions or Comments? Email Dave by clicking
here
.
           Daniel Palmqvist

'A Landscape Made From Dreams'

                 © 2006 Lion Music

Reviewed by Dave Palmer

For those not aware, Daniel Palmqvist is a Swedish guitarist who has a status similar to the likes of Eric Johnson or Yngwie Malmsteen. I would say that in his songwriting approach, he is a little closer to Eric Johnson though. I consider Palmqvist a finesse player. His approach to the music on this album is instrumental in nature and disciplined. For the first almost half of the album, music flows melodic with technique being key. About the time we get to the track 'Carte Blanche', we get to see a different side to his playing. This track is much more crunchy and heavy. A good showing of diversity which also includes the track 'Song for Pongo' which has a nice groove. Also, the title track has some very good depth to it. Helping out with production duties was Daniel Flores whom some may recognize due to his band Mind's Eye. Also joining in the musician area are some very good players such as session keyboardist Andreas Lindahl for the title track, Bass duties are handled by Johann Niemann from Mind's Eye as well except for 'moment of Clarity' and 'Riddle Me This' which were both handled by Andreas Olsson. Other keyboard guests include Johannes Stole on organ for 'If Things Were Different' and keys on 'Riddle Me This'. Kaspar Dahlqvist handles keys on 'Moment of Clarity'. All drums are handled by Daniel Flores. While this album might not be accessible to everyone due to personal tastes with instrumental releases, I will say that it flows well, is disciplined, and is pretty consistent start to listen in terms of quality. If you don't mind spinning an album that will be great to kick back and visualize with, Palmqvist has put a pretty good one together.

Overall

An instrumental offering from a Swedish guitar great that also features Mind's Eye member Daniel Flores. A very disciplined release with a few rockers to mix it up.  Overall, this album is melodic in nature and has some very good technique. If you are a fan of guitar composition done right, check this one out!

Questions or Comments? Email Dave by clicking
here
.