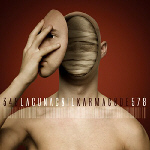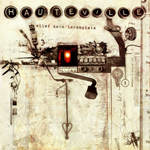 Lacuna Coil

  'Karmacode'

© 2006 Lion Music

Reviewed by Dave Palmer

My introduction to this band was their previous effort 'Comalies'. I liked that release and figured that this would definitely be a band to watch out for in the years to come. Well, we get the followup album 'Karmacode', and in my opinion it's a stunner. There's alot to like here, but I think vocally this album is a gem. For those not in the know, this band is a female/male vocalist band. The mix of the two on this release produces some pretty amazing results. The music is also dominated by a really heavy low end tone. Add in the melody and you have one of the years best albums. This band has done some amazing things for Century Media in the form of chart positions and stuff like that. You could say they are one of the most successful bands coming from that label. As far as consistency, this album has that quality to it. It does lean more modern in sound, but distances itself from the rest of the pack with the rich sound that encompasses the listener. The first single, 'Our Truth',  is a good choice due to it's catchy and instantly memorable nature. It is also including on the album as a promotional video. Also included on the disc is a mini move from the road, some web links, and some press photos that were pretty cool to check out as well. One element I absolutely loved was the transition between 'You Create' and 'What I See'. You start out with dreamy sounding intro music that transitions into a thumping low end groove. Definitely one of the cooler things I've heard in a while. Without a doubt, if you haven't heard of these guys, this one is a safe bet to check out!

Overall

This is a really good release. It has a more modern sound to it than traditional, but has some very rich sounding tones that separate it from the rest of the angry pack. This could prove to the bands most commercially viable release to date, but never lacks the integrity that the band has maintained with previous efforts. I would definitely recommend this release highly!

Questions or Comments? Email Dave by clicking here.

         Hauteville

'Relief Data Incomplete'

        © 2006 Lion Music

Reviewed by Dave Palmer

'Relief Data Incomplete' is the new album from France's Hauteville. This band is a bit hard to nail down when talking about styles. The band open up in a progressive vein with the track 'Monster (The Race). When I say progressive, I would lean more towards a lighter Rush sound than a technical fury of bands like Dream Theater. As the album moves to the next track 'From Adam to Atom', the band embrace a more techno or electronic vibe which really has a different feel from the opener. From there on, I feel the album stabilizes in it's sound which is a more rock or AOR sound. The band is female fronted which is becoming quite common these days. The music is a bit moody and really has alot of atmosphere from this point on. I would probably draw comparisons in tempo to bands like Marillion although the two bands sounds do differ. As one would expect, some of the subject material is quite interesting. The sound of the band and the lyrical content go hand in hand in my opinion. You have tracks like 'The Perfect Lens' that talk about The Bang Bang Club which is a group of war photographers dealing with some issues that require difficult decisions to be made. It all makes for an interesting listen with the content not being of the usual and the music being a bit more visual than the average album. If you are looking for more of a thinking individuals type of album that flows with mood and atmosphere, this one will fit that bill.

Overall

A moody album that lies somewhere between progressive and AOR. The band is a bit hard to nail down into one style, but it's all rock based with varying intensity. This female fronted band paint a visual with each track especially if you keep in mind the track name. It really provides a very interesting listen!

Questions or Comments? Email Dave by clicking
here
.