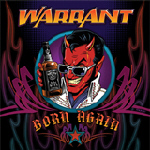 Reviewed by Dave Palmer

I always get excited when I hear Jaime St. James is up to something in the music biz. I was a very big fan of Black 'n Blue back in the day and have tried to follow his career from then until now. One of the strangest places in some ways to find him is singing for Warrant. Guess I never thought about it before. Immediately you start wondering what the band will sound like. Will they sound more like Warrant due to the fact that the complete band is intact minus Jani Lane, or will the sound more like Black n' Blue due to the very familiar and unique vocals that St. James brings to the mix. Well, it's kind of yes and no on both accounts. As far as the St. James influence, I think a bit more about Freight Train Jane. Yeah they did sound alot like Black 'n Blue in some ways, but in other ways they didn't. The music that the band deliver is definitely delivered with the edge that Warrant always gave us, but it isn't the same that you remember either. Consider the band a nice hybrid that only has flashes of what they used to be. Is that entirely a bad thing? I don't think so. What disappoints me more is when a band goes off into experimental mode like what Warrant did in the mid 90's. This is a good back to the roots record that has some decent music. I think for all of the reasons mentioned above, the album name 'Born Again' is absolutely perfect. Getting back to their roots and just having fun is what this album is about. Don't read a bunch into it, just listen and enjoy!

Overall

I like it. It doesn't really sound like Warrant or Black 'n Blue, but having the complete Warrant band matched with Jaime St. James has a bit of chemistry. I really didn't find anything on the album I didn't like. All of the music is accessible to most rock fans. The only probel I see to this point at the time of this review is domestic availablility. The version I have is from MTM Music. If you can round this one up, it's a fun listen and reinforces that there still is some good fun in rock ' roll after all!

Questions or Comments? Email Dave by clicking
here
.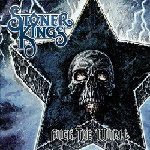 Reviewed by Dave Palmer

Not sure where this one came from. Went to my mailbox and there it was. The first thing I was impressed with was the list of guest musicians. It definitely wasn't small. For a band who seems to have had a hard time where labels are concerned, they took their we don't give a shit attitude and put out a pretty damn good album if I do say so myself. The music as you might have guessed is Stoner Rock. Don't start thinking about all of the bad Stoner Rock bands that you have heard however. There have been plenty of those. These guys are leaps and bounds above most I have heard in terms of quality of music and overall delivery.  The music in my opinion will have appeal to most heavy rock fans in general. When I try to think of bands I might compare them too, it gets kind of difficult. In some ways I think of Corrosion of Conformity, but only in the grittiness of their sound. Maybe Black Label Society a bit. Even as the album opens with 'Mantric Madness' you get a touch of Type O Negative. Well actually the album opens with the intro 'Ichabod/Scum of the Earth' which is an intro, so the first full track anyway. As the album progresses through the listen you pick up on the attitude that drives each song. This is precisely why the album has the title it does. This band knows that it has the goods and isn't going to let anyone get in their way of bringing their music to everyone that wants a taste of it. Some of the other tracks that I found as favorites included 'One of the Sane', 'Angel Weed', 'Stem the Tide', 'Black Lotus' which is probably my favorite of the album, and 'Burn You to Ashes'.

Overall

This is a really good heavy rock record. I have to be honest and say I don't remember hearing this band before, but I definitely came away from this listen pretty happy. Rhythm's are chunky, attitude is aplenty. It's all about the music though. I found the album  to be pretty complete listen. Don't make judgements on this band until you get a listen because I think for this type of band, they are pretty accessible. Very nicely done!

Questions or Comments? Email Dave by clicking
here
.
         Stoner Kings

        'Fuck the World'

© 2005 Shrinking Cosmos Music

    Warrant

  'Born Again'

© 2006 MTM Music