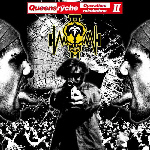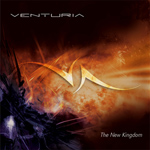 Queensryche

'Operation: Mindcrime II'

    © 2006 Try-Ryche/Rhino

       Venturia

'The New Kingdom'

    © 2006 Lion Music

Reviewed by Dave Palmer

'Operation: Mindcrime II' is an album that I thought we'd never see. Actually, I never thought there was more to the story. The premise behind the latest offering from Queensryche is a continuation of the original story 20 years later in both album and real time. Nicky is now coming out of prison with revenge on his mind. With the critical acclaim that the original Mindcrime received, it's bold in itself for the band to continue the story and release this latest entry due to comparisons that will be drawn. After hearing the album I came up with some conclusions I feel are important. First, you need to lose the idea quick of comparing the two albums. It will be nearly impossible to achieve what the band did with the first Mindcrime. The musical climate isn't as warm as it once was. While not totally impossible, it's really much better to let this album stand on it's own merits. I think it's important to realize that the music really goes hand in hand with the 20 years later theme. The band mentioned going back to it's roots with this release. You can tell that there is more zip to the music than the last few albums, but at the same time it still sounds a bit more modern that the original Mindcrime.  Looking at the music in general, if you are willing to go into a second listen, which always seems to be necessary to completely figure out the angles of the Mindcrime stories, you'll probably really start to get comfortable with the album. The music is definitely Queensryche and there are areas that will have you feeling reminiscent of the first Mindcrime, but go into this one expecting a new feel. While I haven't totally figured out the story yet, I am definitely enjoying the album and having Queensryche back after some of their more recent experimental workings.

Overall

I found this album pretty good after the second spin. It is not quite as accessible as the first Mindcrime outing, but will be earning it's own respect in time. There is a bit more of a modern sound to the album, but from the way the songs are structured, it also has a classic feel as well. There are moments of familiarity, but go into this one expecting a new experience and enjoy figuring out the story as you did the first one. Try to stay away from comparisons with the first Mindcrime as well. It was the original and really is hard to beat. I can definitely recommend this title to you though!

Questions or Comments? Email Dave by clicking
here
.
Reviewed by Dave Palmer

The month of April brings out some very good stuff in the progressive vein from Finland's Lion Music. The first out of the two I received is France's Venturia. The band features 2 vocalists, male & female which is something you are starting to see a bit more of in today's market. Upon starting my listen with this album, I was thinking back to Rush in the early 90's with the clarity and crystal clear sound. It isn't as cut and dried as that though. You get elements that may sound familiar such as Dream Theater a bit in guitars and keyboard, but the band doesn't really draw heavily from one source which offers up a fresh sounding listen. The music throughout the album is very upbeat and can at times be very catchy. For me and the flow of the music I see coming through my mailbox, there are really two types of albums. Those that are good, but might not see many subsequent listens. Then there are those that I go back to time and time again. Venturia's album will probably fall into the latter category. The album opener is one of my favorites. 'New Kingdom' has a very catchy vibe to it. It also has alot of melody as does most of this release. There are a bit darker edgier tunes as well such as 'The Unholy One' and 'Candle of Hope Through a Night of Fears'. I really wouldn't go as far as to classify anything as straight out dark however. Those tunes just have a bit edgier guitar that sounds a bit darker. Most of the rest of the album falls into that upbeat catchy feel. Some of my personal favorites include 'Words of Silence' which has a laid back feel to it, 'Take me Down' due to it's melody and edge and overall memorability, 'Welcome to the Daylight', and the closer 'Dear Dead Bride'.

Overall

A very good release from this French Progressive band. This band has a definite progressive edge but never really gets lost in that. You could say they play with alot of discipline and really only get flashy where flashy is needed. The band deliver a great deal of melody, but at the same time can give you some decent grit to give you a well rounded feel. The male and female vocals are also a nice touch and when the sing in a more duet fashion, they really compliment each other with their vocal tone. A very solid release that is recommended if you like melodic or progressive rock!

Questions or Comments? Email Dave by clicking
here
.