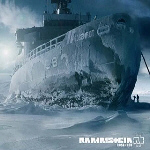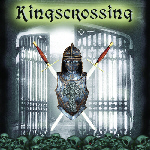 Rammstein

           'Rosenrot'

© 2005 Universal Music Group

     Kingscrossing

     'Kingscrossing'

© 2005 Kingscrossing Music

Reviewed by Dave Palmer

Seems like Rammstein just released their latest offering recently. Well, they kind of did with the album 'Reise Reise'. Hot on it's heels is the bands latest 'Rosenrot'. I would have to say that this album is one of the bands darker and most moody to this point in my opinion. There is some melodic sounding stuff here and there throughout the album, but there is also some very good intensity. For the fans of 'Sensucht' however, it may be pulling even further away. For me, the 'Mutter' era is my favorite and I really liked 'Reise Reise' quite well. This album to me is an extension and maybe a natural progression if you will in the bands sound. While there are some familiar elements in the bands sound on this record, there are also a few minor things that enhance the music like the Accept sounding group chants in the track 'Mann Gegen Mann'. I think what makes the album really good to me is the depth to each song. If you take a listen to the track 'Spring', there is a very gritty edge to the guitars that give off a dark sound, but there are also the background vocals and keys that add a very moody feel to the tune. I like that about this album because it isn't isolated to just a few tracks. It's also kind of interesting to hear duets on a Rammstein record. You get one with the track 'Stirb Nicht Vor Mir'. Not a bad track, but it did have to grow on me. Overall I think the music is really good and pretty consistent throughout in terms of quality. The odd track of the bunch would have to be 'Te Quiero Puta'. It's obvious that  it's Spanish, but  is kind of interesting with the fact that this a German band that sings in their native tongue. It sounds pretty cool nonetheless.

Overall

Another good release from this modern German band that has been around for a while now. The band is evolving with each release and i think this release might become one of my favorites. It has a bit more depth to it than I remember from previous releases. I consider it heavy, yet dark and moody as well. If you like this band, you probably already own this, but if not, it is cool and worth checking out.

Questions or Comments? Email Dave by clicking
here
.
Reviewed by Dave Palmer

I had never really heard of Kingscrossing before I was given this promo. I actually met guitarist Zack Grimm at a local gig I was at and found out that Kingscrossing hails from Las Vegas, Nevada. If I was to try to nail down the bands sound, I would put them somewhere in the Iron Maiden/Manowar type of power metal. Obviously with the name of the band, you know where the subject material will be drawn. In the package I was given, there was also a DVD with some footage or promotional videos shot of the bands live performance which was pretty cool I thought. The band seem ambitious and from what i can tell are having a fair amount of success on the circuit in Las Vegas. Good reason why. The band write some great riff oriented metal that is very traditional overall. You have the 'Wizard' intro that one might expect to go along with the very good title track and band name 'Kingscrossing'. This band is pretty consistent in their approach to songwriting. If you like the way things are progressing early on in the album, it's a good bet you'll probably like this album as a whole. Some of my personal favorites from the album would include the already mentioned title track 'Kingscrossing', 'Brainwashed' has a very cool vibe to it. 'United We Stand' for both the subject material and the cool sounding traditional metal sound that had me thinking back to the 80's. 'Stalker' has a good metal sound as well.  'Rapid Fire' rocks out with it's nice grind in the guitar work. This tune is not a cover of the Judas Priest classic. 'Battlescarred' is good and has a bit slower and chunky rhythm to it as well as a bit of a dark tone. Last but not least, 'For the Metal'. How could one not like a tune with a name like that. Even aside from the name it sounds really good and a bit retro.

Overall

This is a good traditional metal release. The band has put together a very good effort to please their fans as well as shop for larger distribution. This album will have appeal to fans who may not have heard this band but like stuff in the Iron Maiden or Manowar vein of metal. Musicianship is pretty good and I found the added dvd a fun watch as well. Definitely keep your eyes out for Kingscrossing and if you are ever in Las Vegas, go check 'em out!

Questions or Comments? Email Dave by clicking
here
.