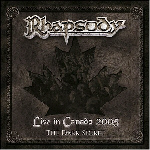 Rhapsody

'Live in Canada 2005: The Dark Secret'

                © 2006 Magic Circle Music

Reviewed by Dave Palmer

It's been awhile since I have heard any Rhapsody. Not that the band hasn't been busy, I just haven't checked out material from the band in a bit. The latest offering from the Italian Symphonic Metallers is also the bands first ever live album. This is quite astonishing as the band has a very large fanbase overseas and also a pretty decent sized catalog of albums. The album was recorded in Quebec City in June of 2005. The show sounds amazing large, especially when you learn that the band were opening for another metal legend in Manowar. The fit in my opinion would be very good with these two bands and both would definitely compliment each other. As far as Rhapsody's set, it's quite good. With the large amount of tuneage that the band can draw from, I think the track lineup is good and allows the concert to flow nicely. The production on the album is clean and the arrangements, especially orchestration really give the songs a nice full rich sound. I was kind of surprised to see only 11 songs on the album, but don't really take that as a gripe because it is not. There is just so much material and I guess with it being an opening spot, this is actually quite a decent set. Not much else can be said in this review. It's live, we know that. It's up to the usual standards of one of Symphonic Metal's most respected acts. The setlisting is good as well. The only other thing to mention is the accompanying DVD that has some behind the scenes stuff as well as the entire album in 5.1 surround sound. A nifty little package indeed!

Overall

You pretty much know what to expect from Rhapsody. This band delivers their music in a production type of atmosphere. This is the bands first live album which I found surprising. The sound is crisp and clean and with the addition of the dvd as a 2 disc set, there is some decent bang for the buck here. Some people may find Rhapsody to be a little too production, but listening to this audience on this recording as well as the interaction with the band and fans, it's obvious that this band has earned alot of respect. If you don't mind live albums and are into very large production type of music, this one gets the year started off with a bang!

Questions or Comments? Email Dave by clicking
here
.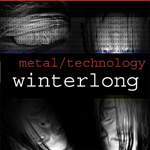 Winterlong

'Metal/Technology'

   © 2006 Lion Music

Reviewed by Dave Palmer

I remember talking about this bands last album, which was quite good by the way, and saying how much the band had improved. Well, they are back and I would have to say that they are now the most changed of what I have heard recently. Take one look at the title of the album and you will have the answer before you ask the question. Yes, the band have changed their sound to a more modern heavy sound that also incorporates some electronic elements as well. So is this really a bad thing you ask? Well, it would probably depend on who you ask. While we have grown to understand that this band is definitely going to mix things up a bit from album to album, we are sometimes just not sure which direction it will take us. This tends to do one of two things. It either alienates the fanbase or breaks some serious new ground in terms of market acceptance. You will probably wonder how I feel it will affect this band. Probably a little of both. Due to the bands more traditional sound early on and this more modern sound now, some fans may abandon. I think the new sound is actually quite good however. It is hard driving with some intense sounding vocal work that actually has two different layers to it at times. This sound will definitely have some interest to a new bunch of fans while still having the ability to retain some of the old fans as well. I would say that out of the latest batch of titles received from Lion Music, this one is maybe the most interesting and most fun. Favorites include 'The Hunter', 'Go to Hell', 'My Nevermore', 'Like Ships in the Night', 'Shouting Out the World', and 'Cleaning the Machine'.

Overall

This is a very interesting album for Thorbjorn Englund and Winterlong. A very Modern and heavy release with a bit of a electronic element as well. It is actually quite catchy and accessible, maybe more than you might think. I liked the vocal work as well. Two different styles, one of which had me thinking Udo Dirkschnieder from Accept. It adds a totally new dimension to Winterlong, but you as a fan will have to decide whether it's a change that you like. I found it quite enjoyable actually.

Questions or Comments? Email Dave by clicking
here
.