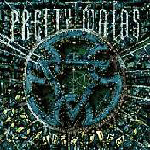 Pretty Maids-Carpe Diem

       © 2000 Massacre Records

Why Pretty Maids never broke here in the States is totally beside me. The band is one of the most consistent songwriting  metal machines the rock world has ever seen. 'Carpe Diem' is the latest masterpiece in an amazing career that spreads the better part of 2 decades.

The album opens with the full throttle melodic rocker 'Violent Tribe'. Immediately you realize thatthis album will not disappoint. Following the pace of the opener is the title track 'Carpe Diem'. 'Tortured Spirit' gives you a slightly different file. Adds a moody element to the crunch. Very good tune. For fans of the more commercial type of sound, 'Wouldn't miss you' will fit that need perfectly Very good melodic choruses with a very upbeat medium tempo. One of my personal favorites is 'Clay'. Very melodic and fills that balladesque need although it is more midtempo. Worth the asking price of the album all by itself. 'Until it dies' is probably my favorite on the album. From slow and moody to crunchy and heavy. Guitar sound is thick as a brick on this track. Gets the blood flowing in a hurry. 'For once in your life' is another amazing ballad type tune. Very good sounding guitar work. Ken Hammer really displays some very good work on this album. A tune that I really like his sound on is 'They're all alike'. Get about 21/2 minutes in and start listening to the grit he gets going. Very cool.

This album is extremely cool. It will make my top 5 of 2000. If you look for Metal bands with consistency that don't cave in to trends, this band ranks very high. They are one of the best metal songwriting units available in any market today. This album comes very highly recommended!

Nitzinger-Going back to Texas

         © 2000 Record Heaven Music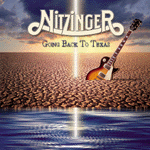 Some will remember John Nitzinger from his work with Alice Cooper on 'Zipper catches skin' as well as Bloodrock. He has returned with a collection of tunes including a few from the past. The album is offered through classic rock label Record Heaven.

This is a fun album to listen to. I immediately thought of Stevie Ray Vaughn with 'Didja miss me'. Familiar guitar flavoring here. The album is a blues based album with some crunch here and there. Kind of on the funky side is 'Rap is Crap' which has it's own very humerous element. Us rockers have waited forever to have someone pen a song called this. Thanks John! Other humerous elements are found in tracks like 'Jellyroll Blues', 'Cats and Dogs blues' then followed by 'Cats and Dogs'  give the listener the feel of having a good time still exists in the music world. Unfortunately in todays market people take themselves much to seriously. It's entertainment and Nitzinger will get you started. Now keep in mind that this guy is a good musician as well. This isn't meant to be a Wierd Al style of album. It's blues based rock looking at the lighter side of life. There are 18 tracks total here and the album checks in at just over an hour. Tunes are very consistent and well written.

If you are looking for something classic rock oriented, this is a good bet. The album can be bought through importers as well as through the Record Heaven home page that can be accessed by clicking here. Definitely worth checking out.