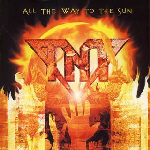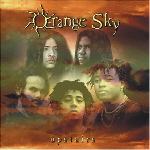 TNT

'All The Way To The Sun'

    © 2005 Mayhem Records

    Orange Sky

        'Upstairs'

© 2005 Granite Records

Reviewed by Dave Palmer

Tony Harnell has had a busy year. We were given the Starbreaker album a few months back, he contributed tome vocal work to the Brazen Abbot album 'My Resurrection' that we reviewed here recently and now we have a brand spankin' new TNT album. Looking back to my early days of hard rock and roll, I credit TNT as one of my earliest favorites. I had rounded up a vinyl copy of a self titled ep that had 4 or 5 tracks on it. Obviously that wasn't Tony yet, but it made it's mark, and by the time that 'Knights of the New Thunder was released globally, I was hooked and blown away. The early TNT as we knew it is mostly on this latest release with only Morty being absent due to chasing other avenues of music. The music on this latest release is without a doubt the TNT that most fans have come to love. 'Firefly' is that one album that everyone seems to go back to and hope every new album is not. I have to be honest, I liked 'Firefly'. I was also in the minority apparently. For those who may be worried about it, this album is nothing like 'Firefly'. It's all about melodic hard rock delivered in the usual fashion that we have come to expect from this band. Almost as unique as Harnell's voice is Ronni LeTekro's guitar playing. You could never see the cover or have heard the music and you are gonna nail this down as classic LeTekro in the guitar work. His picking style is absolutely unmistakable. I think most are gonna come away from this album very satisfied. Everyone has their favorite albums, and while this may not change everyone's list, it will rank up there with some of the bands better work. I thought the inclusion of 'What a Wonderful World' was an interesting choice, and after hearing it a few times ended up liking it quite well. The vocals are definitely going to be much different from the original, but Harnell does an amazing job and puts the TNT trademark on it. I really didn't find any weakness here. Maybe I am a bit biased, but I like it all.

Overall

It's without a doubt TNT. The album is well written and well delivered. There are some lighter tunes and there are rockers. Just the way you would expect it. TNT doesn't change the recipe that has brought us some of the genre's best melodic hard rock. I like it quite well and have no reason to not give this a high recommendation. Now go and get it!

Questions or Comments? Email Dave by clicking
here
.
Reviewed by Dave Palmer

As I kept getting my promotional materials, I kept noticing additional items that were related to Orange Sky. I didn't think too much right away, but eventually curiosity gave way. I landed a copy of this Trinidad based rock bands album 'Upstairs'. So what exactly would you expect from a band based in Trinidad anyway. I would expect Reggae obviously and guess what? There is some of that on this album although the larger majority is based in rock and roll. This is precisely why this album works as well as it does. The band do play Reggae as Reggae and Rock as Rock. It's not some odd sounding heavy mix thing that sounds out of place. It is thrown together only as an album containing both and with both done quite well. One of the tunes I found interesting was the cover of Cat Steven's 'Peace Train' done in Reggae fashion. It comes across catchy and will probably appeal to the Reggae audience and may have a bit of crossover to the rock crowd. I don't want to come across like there is a division in this album. It is a rock album. There is some very melodic stuff on the record that is definitely worthy of mention as well including the very good opener 'It's Over'. When I heard that particular song, I thought I had the bands sound nailed down. Not so. They just do everything quite well. The definite high point of this record is it's honesty. There really aren't alot of bands that I know of to compare this with. The band's native culture is in the sound and the songwriting seems to be from the heart. I found Orange Sky to be pretty unique and found the album to grow on me more and more with each listen. I did like the album from the beginning, but developed more of an appreciation as it went on. If you are open minded and like to try new and slightly different things, Orange Sky should be intriguing to you.

Overall

This is an honest release and intriguing as well. The band hails from Trinidad and you'll hear the native influences in their sound. Their is a bit of Reggae on the album, but the albums caters largely to a rock sound. It's an album that grows with each listen and should draw some attention to this band. The addition of the dvd in the album was nice as well offering us a look at the live performance of the band. If you are looking for a rock band that offers something a bit out of the ordinary, give Orange Sky your attention!

Questions or Comments? Email Dave by clicking
here
.