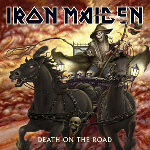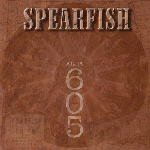 Iron Maiden

'Death on the Road'

© 2005 Sanctuary Records

  Spearfish

  'Area 605'

© 2005 Lion Music

Reviewed by Dave Palmer

The latest from the mighty Maiden is another 2 disc live offering titled 'Death on the Road'. The first thing that people are bound to wonder is why another live release this soon after 'Rock in Rio'? Well, I don't really know. I didn't really even pay attention and almost missed the fact that this album was coming...and I'm a huge Iron Maiden fan from way back.  While I may not understand the flow of live albums coming from the Maiden camp these days, I do enjoy them. This live album was recorded in Dortmund, Germany and has the usual great live crowd. The thing I have found amazing through the years is the crowd interaction with this band in the live performance. Seems that the shows get a bit more interactive with time as well which is evidenced by this particular release. Some people find that annoying, I find it amusing. As far as the sound, it is decent. There were a few instances on the album where Bruce's vocals were a bit overshadowed by everything else, but it was minimal and far and few between. Looking at the track listing, I had no complaints. A definite list that includes fan favorites and also live crowd pleasers at the same time. There are a few tracks from the 'Dance of Death' cd obviously, but how do you pick a setlist from so many great tunes over so many years? I think the band did a decent job. What I really want to see is the forthcoming live dvd. I really like the visual aspect of the live show more than listening to the audio portion. I will say as I am sure that alot of others will agree that 'Live After Death' is the groups best live album to date. This album does stand up on it's merits and is a cool addition to the catalog. Let's just wait a little longer until we get the next one and hustle up on a studio album because I'm definitely ready for one!

Overall

Not totally necessary at this point after coming off of the live 'Rock in Rio' recently, but still cool nonetheless. A decent track listing of favorites along with some more recent tracks that are decent from the 'Dance of Death' album. Good interaction with crowd and band make this enjoyable to listen to. It is what it is and it's a decent listen to boot. Now bring on that dvd as that is what I want!

Questions or Comments? Email Dave by clicking
here
.
Reviewed by Mike King

I've just discovered my favorite new rock band. Spearfish.  This band from Sweden absolutely rocks!  I've listened to 'Area 605' over and over and have not found a single flaw in it. They remarkably sound a lot like the Canadian band Killer Dwarfs, my other favorite rock band. Thomas Thulin's vocals are tight and very Geddy Lee-ish. His bass playing is groovy and has a deep warm tone which adds a rich sound that bridges Peter Lundin's driving guitar work with his unique vocal style. Johan Sterner drives right up the middle with his deliberate pounding keepin' these boys on track. I'm listening to 'Area 605' as I write this review and I tell ya I can sum this CD up in one line,  'It Kicks Ass!' It has all the right elements of the perfect rock album, guitars, guitars and more guitars with earth shattering bottom end from the bass and drums, with in your face vocals that are ballsy yet understandable. There is a quiet moment on this album which is expected on any great rock album.  'All Said 'N' Done' is one of those acoustic rock ballads that can make your heart swell up and make you want to get up and save the world. The lyrics are well written ode's that are meaningful and tell stories that we've all lived at some point in our

lives. The amazing part of this band is that there are only three members which qualifies them to fall into the power trio club with other greats such as Rush, Triumph, ZZ Top and the like.  Speaking of Rush, Spearfish dared do the unthinkable and covered a tune from the Canadian giants and did an excellent job of it. 'Limelight' is well mastered by this mega talented trio. This album is very high energy and should be approached with caution. The weak of heart should not attempt to listen to this ball crushin' powerhouse of an album, at least not alone. This is an in your face rock album that will surely wake the dead.  I know, I'm being way to descriptive here but I hope I'm getting my point across. This is a killer rock, not metal, album.

Overall

If you're looking for a high energy rock album like you used to get in the good ole days then check this one out.  It contains everything a good rock album should.  Catchy, hard driving guitar riffs with searing guitar solos, a powerful rhythm and soaring out of this world vocals with great harmonies and chorus lines you can relate to.  If you like bands like Killer Dwarfs or Firehouse then this album should fit nicely in your CD case.  If nothing else, Spearfish's version of Rush's 'Limelight' should arouse your curiosity.  Check this one out, you won't regret it.

Questions or Comments? Email Mike by clicking
here
.