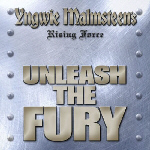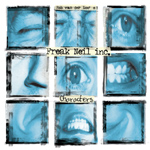 Yngwie Malmsteen's Rising Force

               'Unleash the Fury'

               © 2005 Spitfire Records

Rob Van Der Loo's Freak Neil Inc.

                     'Characters'

                   © 2005 Lion Music

Reviewed by Dave Palmer

It's been awhile since we saw the 'Rising Force' added to Yngwie Malmsteen's name. When you see the name as Yngwie and the Rising Force, it definitely gives you an idea of what to expect. Handling vocals on this release is Doogie White and he does a tremendous job. With all that comes along on a Malmsteen record, the vocalist has got to be good and in this case there are no worries. Musically, this is vintage Malmsteen. The album opener 'Locked & Loaded' is much more straight forward in it's delivery. More traditional metal oriented if you will. From there you get a variety of things. It wouldn't be the same, especially with a Rising Force record to not have that typical classical flair. That after all is what made the first Rising Force such a classic as well as a big success. Another thing that I was amazed at with this record was the sheer quantity of tuneage. 18 total tracks on this album. That's alot of bang for the buck. The usual technical shredding is here as well which is always expected with Yngwie's caliber of playing. Looking at the music, it may not be groundbreaking, but it is good. Malmsteen delivers it just the way the fans expect it. As a matter of fact I would go as far as to say that it sounds pretty vintage. Fans of Malmsteen can be sure that they are going into this one with really no experimentation. The one thing they will get out of this experience is an idea of what Malmsteen's voice is like thanks to the track 'Cherokee Warrior'. He's not bad, but he does use a singer on his albums because after all, he is a guitar player. You can really break this album into two sounds, gritty hard rocking and classical. This is fairly typical of the Rising Force albums and nothing is really different here.

Overall

Malmsteen really has had a lengthy career and for his solo material, it all started with his Rising Force. The music is pretty typical of what you would expect from this phase of his career. A fair amount of classical, lots of shredding, and music with an edge. I found it decent although not groundbreaking. I'm sure he wasn't trying to reinvent the wheel with this release, so for that I feel this album is good and a success.

Questions or Comments? Email Dave by clicking
here
.
Reviewed by Dave Palmer

Some of you may say Rob Van Der who? For those who don't know who Rob is, he is better known as the bass player for Sun Caged which also features Marcel Coenen. This is Rob's solo stuff if you like or maybe his project away from Sun Caged. This is a very interesting release. There's absolutely nothing straight forward about this album. I found it very experimental, and actually... quite enjoyable too. There is obviously alot of great bass on this album. As a matter of fact, you may say that it really drives it. There is much more to this album though. In alot of ways I hear an almost Zappa like quality to it. It's fun and a bit strange in it's approach. I was really surprised at some of the stuff I heard such as the bass on the track 'I'm the Hero'. I have never heard anyone else sound like Les Claypool and Primus. This track nails it almost perfectly. It's all pretty creative from there as well. You have some fusion based stuff such as 'Downtown' or 'Cafe Supreme'. There is some good rock based stuff including 'Bulldozer Blues' or the opening track 'Talking Chair' which is actually preceded by the intro 'Characters'. I think the finale of the album is quite good as well. 'Absence' may be the moodiest track on the album and the best put together of all of the songs although I think the album is a good listen all of the way through. This track is probably the most progressive in nature in my opinion. I think Rob has put together a good effort here. I believe the critics will like this as well as the fans. There are some amazing guest musicians on this release to help out including some members from Testament.

Overall

Pretty solid stuff here. Rob Van Der Loo really showcases his talents not only as a bass player but as a songwriter. The tunes are not straight forward in nature, but for those who enjoy Zappa like stuff (maybe a bit more Dweezil than Frank), you are probably gonna like this alot. I found it to be not only interesting, but entertaining as well. Very good effort!

Questions or Comments? Email Dave by clicking
here
.