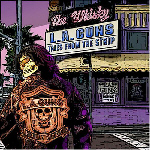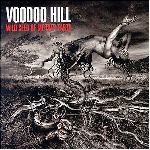 L.A. Guns - Tales from the Strip

           © 2005 Shrapnel Records

Voodoo Hill - Wild Seed of Mother Earth

                    © 2005 Frontiers Records

Reviewed by Dave Palmer

Recently I had the chance to check out another rock title from Frontiers which also features vocal icon Glenn Hughes. This band also features the talents of Italian guitar great Dario Mollo, Robert Gualdi on drums, Dario Patti on keyboards and Fulvio Gaslini on bass. 'Wild Seed of Mother Earth' is the album and Voodoo Hill is the band. The first thing that stood out was the amazing vocal work. As usual, Hughes sings his ass off. I'm not sure I've heard him this aggressive before. The combination of Mollo and Hughes is definitely cool and both can be a bit explosive on the record.  Dario Mollo works with a variety of great singers with some of his other projects so it's no surprise to see someone of Glenn Hughes caliber working this with him. The album offers up quite a few straight forward rockers such as 'Make Believe', 'Atmosphere', 'My eyes don't see it', and 'Can't Stop Falling'. There are some heavier tunes such as 'Dying to Live', 'Still Evergreen', and '16 Guns' which also has some great atmosphere. Then as expected are some more soulful tunes including the title track 'Wild Seed of Mother Earth', and 'Soul Protector'. It's all based in rock and has pretty good delivery. I am always amazed at what Hughes is involved with. The mix of his vocal prowess and the bands tightness is a win-win situation. I can say I had never heard of Voodoo Hill until I spun this disc up, but they definitely left their mark on me.

Overall

Another Glenn Hughes fronted album. That should be enough for a lot of fans to dig in right away. The music is solid hard rock played straight up for the most part. There are some heavier tunes and then there are those that flow with some good soulful atmosphere. Definitely worth checking out!

Questions or Comments? Email Dave by clicking
here
.
Reviewed by Dave Palmer

'Tales from the Strip' is L.A. Guns latest offering via Shrapnel Records. As far as the band goes, returning members from the original lineup include Phil Lewis and Steve Riley. Joining the band on this record is Stacey Blades on guitars and Adam Hamilton on bass. Now before you get excited and ask why you should even pay attention to this release due to the fact there is no Tracii Guns, I'm telling you, this album is pretty good. I am pretty happy at the same time that we are seeing album after album from some of these 80's rockers, especially after the nauseating tribute, greatest hits era that we had to endure at the start of the decade. It seemed like all we were gonna get was either those two types of albums or some remix crap. Well, L.A. Guns kept jamming albums out on the market. Not to say they didn't throw out a remix or greatest hits package (actually, not sure if they even wanted those out), but this band kept putting good stuff out. This includes this latest record. Fans just need to give it it's dues and I feel they will walk away from it satisfied. There are some good quality rockers here. I think it is important to mention as well that the band have embraced that sound once again that put them on the map with their first two successful albums and maybe a touch of 'Hollywood Vampires'. I feel this record leans much more to the older sound than their more recent style. Stacey Blades does an amazing job on guitars as well. The only thing missing is the laid back ballad type of song. It all rocks and the only change of pace is 'Amanacer' which is offered up by Adam Hamilton and is instrumental in nature. Pretty moody sounding and very cool. Same goes for '6.9 Earthshaker' that showcases Riley on drums.  This album to me is about getting back to the roots. I think the music has done the talking.

Overall

I really like this record. The band gets back to the business of old in my opinion. The album rocks out pretty much the whole way through and I didn't really find anything here to dislike. The sound is a bit more to the raw side than polish. Most fans I have seen that have commented on this release comment to the positive. Good reason for it too. It's a solid album!

Questions or Comments? Email Dave by clicking
here
.