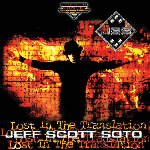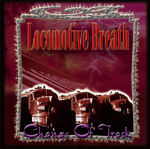 Jeff Scott Soto - Lost in the Translation

                   © 2005 Frontiers Records

Locomotive Breath - Change of Track

                     © 2005 Lion Music

Reviewed by Dave Palmer

I am kind of excited to get access to Frontiers Record stuff. There are quite an abundance of great rock and AOR type of artists on the bands roster. One of those would be Jeff Scott Soto. I became a big fan of Soto back in his days with Eyes. Upon searching his resume, I was quite astonished at how many projects he had been involved with. He's definitely one of rocks busiest and most talented artists. The subject of this review is obviously 'Lost in the Translation'. Most of what I hear from Soto is very melodic with some edge here and there. This album is typical of what fans have come to expect from him. The album rocks from the opening track 'Believe in Me' right through the rest of the album. There are some slowdown moments such as the very catchy and melodic 'If this the End' or 'Beginning 2 End'. This stuff is my favorite by Soto. His vocals really shine in the melodic stuff. These two tracks compete with some of his best. He manages to capture melody throughout the album really which provides a nice balanced rock sound. I feel that this album in terms of quality is consistent meaning that you probably won't be banging on the fast forward button alot. Some of my personal favorite tracks on the album include the 2 already mentioned melodic numbers along with 'Soul Divine', 'Drowning', 'Doin' Time', 'On my Own', and 'Sacred Eyes' which also has a melodic nature to it. All in all, this album is very representative of what you can expect from Jeff Scott Soto and it's provides a decent listen start to finish.

Overall

I love Jeff Scott Soto's music. I have been listening for a long time and through a wide variety of projects and bands. Vocally, Soto is one of my favorites and I really am happy with the songwriting on this album as well. There are rockers as well as those necessary lighter numbers that seem to balance his work out. If you like your rock with infectious melody, this is a good bet!

Questions or Comments? Email Dave by clicking
here
.
Reviewed by Dave Palmer

I would have to say that the signing of rockers Locomotive Breath to Lion Music was another great idea. This band plays it straight up and raw. 'Change of Track' is the bands third album. The music would be classified as hard rock with a slight classic feel in my opinion. You get a few different feels in the music, but it never gets what I would classify as experimental. You can break the type of sound on the album into mid-tempo rockers and more laid back, lighter numbers. The larger portion is obviously falling into the heavier sound with tracks such as 'Shadow', 'Speed Driven', 'Firestarter', and the album closer 'Gargleblaster' showing a bit more flash or punch depending on what you want to call it. The latter being an instrumental jam session that comes across pretty accessible. There are also the lighter numbers I mentioned earlier which include 'Leaving my Heart with You' and 'Chains around Heaven'. Not a lot of lighter stuff, but what is here is pretty cool nonetheless. There are some pretty cool guest musicians on this record as well. Hank Shermann of Mercyful Fate, Mattias Eklundh of Freak Kitchen, Tommy Denander of Radioactive, and Lars Eric Mattsson of Mattsson all lend a hand in the instrumental-fest 'Gargleblaster' which we have mentioned previously. Also, definitely worth mentioning is the addition of Marcel Jacob on Bass. Fans will recognize Jacob from his years with Talisman as well as Yngwie Malmsteen. Not to bad if you ask me. It may be called 'Change of Track', but I don't think you will have to change the track too much, it's pretty solid all of the way through.

Overall

While this band has already made a name for itself in other parts of the world, it's nice of Lion Music to get their third album out to the fans and make it easier for us fans in the States to get a copy. The band sticks to a mostly hard rock sound that can be memorable upon a first listen. Musicianship is great as is the guest listing. The album is well rounded and should bring in more fans which really is the goal. Good stuff!

Questions or Comments? Email Dave by clicking
here
.