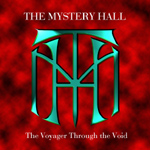 The Mystery Hall - The Voyager through the Void

                                © 2005 Lion Music

Reviewed by Mike King

'The Voyager Through the Void' is the full length CD from The Mystery Hall now available through Lion Music. It contains twelve tracks of heavy hitting, mind blowing, intense progrock in the style of Dream Theater, Seventh Wonder, and the like. However this band has their own distinct sound that puts them in a league of their own. Tony Baena's lightning quick arpeggios are common in this style of prog but his guitar playing is very tasty. He often applies the lesser blue scales in his leads which makes it easier for the layperson to comprehend. His guitar tone is rich and deep which gives a warm sound to their music. The rhythm section consisting of Albert Forns on bass and Isi Martinez on drums is tight and complimentary to the melodies. Very quick and precise runs on the heavy stuff and soulful on the lighter bluesy stuff. Rafael Morata sings the vocal lines with heart felt conviction bringing deep emotion to the mayhem. True to their style there are high points that lead to ultimate frenzy and then they pull you down into sultry lows that will give the listener a good workout. This type of music is not for the weakhearted but for the true music fan that enjoy listening to it all in one serving.

Overall

This CD is an intense musical fury in the vein of Dream Theater, Seventh Wonder, etc. Their style is unique however so you are not getting another cookie cutter band here. They take you on a very high energy, heavy, progressive journey and leave you sweating in the end. Tons of guitar and keyboard riffs, hard pounding bass and drums and soaring vocals mixed with melodic emotion. This CD is definitely worth checking out.

Questions or Comments? Email Mike by clicking
here
.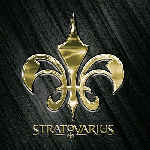 Stratovarius - Stratovarius

© 2005 Sanctuary Records Group

Reviewed by Dave Palmer

This could have possibly been the record that was never made. With internal band problems and a split for a short while, not to mention Timo Tolkki's health issues, it was very perceivable that the band could have called it a day. Well, luck has it for the fans that the band put it back together, Tolkki is now back on track and the band sounds great. Timo Kotipelto is also still singing although at a time was probably not to return. It couldn't have worked out better for us. The band put this record and feels that it is a bit experimental for them. I agree in places, but the core of the bands sound is intact. There is nothing to worry about with the new music. Upon popping this disc in my deck I wasn't sure what lied ahead. The first track, 'Maniac Dance' opens sounding like an old 8-bit video game, but then a few seconds later changes into what you expect from the band. This song is fairly simplistic, almost radio friendly, but as the album progresses things get a little more experimental as mentioned. The one thing that is missing for the most part is that old melodic speed metal frenzy. This album is geared in tempo with a few of the more recent albums with just a good crunchy sound and less quick paced speedsters. I guess you would say it is fairly straight forward in most places with a nice bit of melody as usual. The album consists of 9 tracks. I would say the most experimental track is 'Back to Madness', especially with the male operatic vocals in the middle of the track. That part takes some getting used to for me. Overall though, I think this album is sound and while it may not be the bands best, it's still worthwhile.

Overall

Another decent offering from one of Finland's most popular acts. The music goes more for mid tempo than the melodic speed metal sound of the past. Most of it is memorable with good amounts of melody to keep it accessible to a larger audience. The band may have called it quits for a while, but lucky for fans of the genre, they live on. If you know anything about these guys and some of their more recent albums, you'll probably want to give this a shot. Pretty good stuff!

Questions or Comments? Email Dave by clicking
here
.