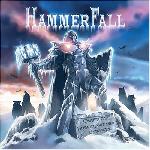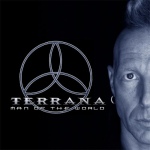 Hammerfall - Chapter V - Unbent, Unbowed, Unbroken

                         © 2005 Nuclear Blast America

Mike Terrana - Man of the World

             © 2005 Lion Music

Reviewed by Mike King

This is my first taste of this band and I'll tell ya, I like it! If I was to label their sound, I would call it Medieval Metal. It reminds me of the old Dio or Sabbath sound only this stuff gets in your veins much quicker. As I listen to this CD I picture fight scenes from the 'Lord of the Rings'. The lyrics are like mini novels that tell visionary stories. Joacim Cans vocals are very melodic but powerful and carry a wide range of tones that relate to each tune. The chorus lines are catchy anthems that the listener can relate to and sing a long with. The music itself is high energy with dual leads harmonizing with each other and a heavy rhythm section gives their music the depth it needs.The recording is crisp and clear which shows the precision of the band, very tight, almost flawless which is needed for this style of music. There is a classical instrumental piece featuring the guitars which you don't find very often these days. It has a renaissance feel to it. Track ten,' Knights of the 21st Century ' is a true epic that falls in the same vein as Iron Maiden's 'Rime of the Ancient Mariner' and sums up the bands style. It is an intriguing twelve minute and nineteen seconds long and contains plenty of chanting vocals, battling guitar solos, thunderous bass and drums and mood swings. This band takes you on several adventures from start to finish on this album. If the rest of their offerings compare to this album then I suggest you get acquainted with these guys.

Overall

This band is like the Iron Maiden of the 21st century. This CD contains massive amounts of dual guitar riffs, anthem style lyrics and a thunderous rhythm section all piled into each track. It's metal with a medieval flavor. For those who like to listen to fast, crunchy guitars with crystal clear vocals then this CD is for you. This is the first time I've heard these guys but it won't be my last. I am hooked.

Questions or Comments? Email Mike by clicking
here
.
Reviewed by Mike King

The Mighty Troll has done it again with his new offering. A rock fusion album that is anything but dull. I first became aware of Mike Terrana about a year ago over at Dave Palmer's house when he showed me a live performance with Mike and Axel Rudi Pell. I sat and watched this maniac with the mighty mane with my jaw scraping the floor. When he went into his solo he just beat the hell out of those drums then he went into this Frank Sinatra routine and right there I knew that there was more to this guy than just headbangin' music.This guy has got some great musical talent stored up inside him and he is a hell of a showman to boot. I think it is great that a drummer like Mike has made a name for

himself and can be the center of attention when he is on stage. Back to the music, he has picked some great musicians to perform on this CD which contains many styles of rock, jazz, Latin, funk and just about anything else you can think of. It showcases Mike as a percussionist rather than just a drummer. I swear this guy has more than two arms and two legs. He is constantly hitting something whether it be double bass or cymbals galore but he does it tastefully. It's never too much like you'd hear from some over zealous drummers. Some drummers want to show off everything they can do and actually ruin the music. Mike takes everything he knows and applies the right style and beat that is appropriate to the music being played. You can hear just about every style of music all wrapped up in one bundle on this album. Some points of interest on this CD, would be that track 6 is a classical piano number and that tracks seven thru ten are live performances which demonstrate just how tight the band is live. They are absolutely flawless. You can see that Terrana and crew are not just studio musicians, they are the real deal. Track eleven is a drum solo where Mike gets to do some showing off. It sounds like there are two or three guys bangin' away but no, it's the man himself. This guy is truly a gifted individual and should be duly noted.

Overall

If you are expecting some Mike Terrana earth shattering drumwork on this one think again. This is a very musical, very talent laden piece of musical artwork. In a word, it's rock fusion at it's best. It's all instrumental with great guitar work, jazz piano and some killer percussion. If you're not a drummer, you will want to be after hearing Terrana create music by hitting things. This guy is amazing and this CD is incredible. This is definitely one for the collection.

Questions or Comments? Email Mike by clicking here.