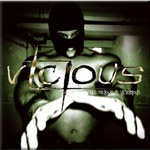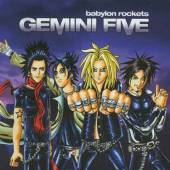 Gemini Five - Babylon Rockets

           © 2005 Cleopatra Records

Reviewed by Dave Palmer

I heard about the band Gemini Five a few months back. If you were to cross bands like Shotgun Messiah, Motley Crue, and maybe in some ways The Beautiful Creatures, you would be pretty close in sound to what these guys are all about. With the domestic scene taking a vacation for so many years, it is pretty refreshing to get a new release from a band who plays it the old school way. The music is definitely old school sleaze and I would say that the last time we got an album of this quality from this style of band was from The Beautiful Creatures a few years back with their debut. The band opens up with the promising rocker and title track 'Babylon Rockets'. This tune in some ways has me thinking L.A. Guns. as the music progresses you get the expected rockers such as 'Twentyfourseven', the Shotgun Messiah sound alike 'Myself Esteem', 'Get it Off' and a few more that are consistent in quality with these mentioned. There are also some lighter numbers worth mentioning that follow that typical 80's melodic power ballad type of formula such as 'Hardcore' and 'Chemicals Between Us'. Both get a bit heavy in tempo in places but really come across as the more melodic side of the album. There is also an interesting cover of the Dead or Alive classic 'You Spin Me Round (Like a Record)'. The band really gave the song a new edge and it comes across as kinda fun to listen to. A couple of my other favorites include 'Automaticool' which could easily fit on a Beautiful Creatures record, and 'Suicide Tuesday' which is just a cool rocker.

Overall

This really is a fun record to listen to, especially if you were into the late 80's sleaze rockers such as L.A. Guns, Shotgun Messiah, etc. It's hard to believe how well the band have recreated that feel all the way from Sweden. There are also a couple of videos added to the album as a bonus which were a nice touch as well. I give it my thumbs up!

Questions or Comments? Email Dave by clicking
here
.
Vicious - Vile, Vicious, & Victorious

           © 2004 Sound Riot Records

Reviewed by Dave Palmer

This release is definitely different then alot of the stuff I received from Sound Riot Records recently. The label has alot of bands (or at least that I received) that embrace more of a melodic speed metal sound. Vicious goes a different direction. Not that the band is any less good in the musicianship. They are definitely on the ball there. The music however leans more toward a thrashy almost death sound. The band is death sounding vocally, but not to the extreme of some bands who have very abrasive vocal work. Musically the band fit somewhere been Slayer and a good power metal act such as Testament. Good grinding stuff it is. With my variety in my taste, I was pretty comfortable with this release. Looking at the music in general, it's all very heavy, some of it more crunchy with the others offering up a bit of speed. The album opens up with one of the songs I liked best called 'Trigger Needs Some Action'. It's abit frenzied and with a title like that what would you expect? 'High on Fire' and 'Deadicate' follow and show the same consistency. That would be one of the albums better traits is that consistency. If you start to listen to it and like it, it's a good bet that you will like most of it. It is worth mentioning once again that this is heavy stuff with maybe a bit more thrash polish than the grind usually associated with death metal. Looking at other tracks that were decent, I would include 'Deathrash', 'A Vicious Mind' and the albums closing track 'The Feeder of Evil' which closes as heavy as it all started. It also sounds like classic thrash in the rhythms which is cool too.

Overall

A pretty good effort, but you are gonna have to like it heavy. This band takes no prisoners in their sonic assault. The music is a bit thrashy and a bit death. It's consistent from start to end meaning that if you like it, you will probably like it all, but at the same time, if you don't you won't. A real no brainer huh? Good if you like it heavy!

Questions or Comments? Email Dave by clicking
here
.