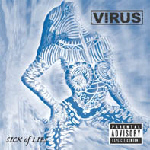 Virus - Sick of Lies

    © 2005 Lion Music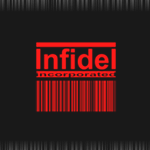 Infidel Incorporated

      © 2005 Infidel Inc.

Reviewed by Dave Palmer

Virus to me is a bit of a surprise signing to the Lion Music label.  This band plays it heavy but in a more modern way. If I was to point out their sound, I would definitely point towards Godsmack in the music and at times Frank Widderson reminds me a bit of a more modern James Hetfield. This album upon hearing it for the first time has spent alot of time spinning in my deck. It tends to be catchy, heavy, and fairly accessible. Looking a little closer at the music, the opener 'Lost' really sets a tempo that continues through most of the album. The song is kinda chunky with melodic and memorable choruses. One of my favorite tracks on the album is the second track 'For My Sun'. This song has a very cool vibe to it. After hearing it the first time, you will be singing it all day long as I feel it is the most memorable tune on the album. Some of the other tracks that I feel stand out include the 'Mother Earth' which is another chunky sounding number, 'Once' which is one of the melodic numbers on the album, but never loses it's power. 'Payday' is a bit moody and dark sounding with another excellent vibe. I also like 'Caged' which once again leans melodic and is really one of the best tunes on the album without a doubt. 'Fool' has a nice upbeat tempo and would fit well on radio in my opinion.  I also like the closer 'No More Lies'. This tune is well balanced with guitar and melody and in some ways is similar to 'Cage' in tempo and sound. I think that overall, the album has a nice flow and really doesn't require much fast forwarding due to filler.

Overall

Definitely one of my highlights so far this year. The band write their music more aligned with todays modern music although you may sense a bit of traditional rock in places. If you dig bands like Godsmack or the such, I think you will probably dig this album although the vocals are a bit different then Sully's. I really like it and would definitely recommend it if you looking for something new to listen to. Great stuff.

Questions or Comments? Email Dave by clicking
here
.
Reviewed by Dave Palmer

Ok, let me try to explain this. Geoff Tyson who played for T-Ride studied under Joe Satriani. Chris Aidan then studies under Geoff Tyson. Sounds like a winning formula, right? I sure think so. Chris has put together a definitely fun to listen to album. This album in no way is a guitar hero style record. Aiden has pulled off a variety of different things with the music and really shows off just how creative he is. The icing on the cake... Tyson appears as does Dan Arlie who was also a member of T-Ride. There are various other guets that round this album out, but for those of you who read my webzine, T-Ride is gonna be your connection. So how does it sound? Well. really cool actually. I hear many different elements on this record. I hear a bit of Stabbing Westward prior to their last album. I also hear some T-Ride believe it or not. Chemlab comes to mind as does Rob Zombie. The album has a variety of things going on as you can tell. As I have gotten a bit older, my tastes have broadened a bit and I have found a definite desire at times to listen to the above mentioned bands and Infidel inc. is no exception. I have really spent alot of time with this album now and it doesn't seem to grow old with subsequent listens. Tunes like 'Snapdragon' and 'Better' have a dark vibe with a little bit of an electronic element thrown in. There a some tunes that I could hear T-Ride doing as well. They include 'Little Pretty Beat Up', and 'Box of Sunshine'. The latter has one of the coolest vibes on the album. There is also a funk driven tune on the album called 'Freak Pornstar'. The music really covers some ground and should gain Infidel Inc. some label interest in my opinion.

Overall

If you like music that is heavy, but is also mixed with some elctronic sounds, maybe some funk, or even dark industrial overtones, this album is gonna grab your attention. I thought there were some T-Ride sounding tunes and was very happy about that due to the fact that we only got one album from that band. I think Infidel Inc. has a bright future if people take notice. The word should spread like wildfire and give Chris a bright musical future. Definitely recommended!

Questions or Comments? Email Dave by clicking
here
.