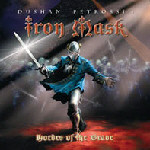 Iron Mask - Hordes of the Brave

                 © 2005 Lion Music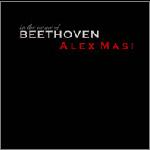 Alex Masi - In the Name of Beethoven

                       © 2005 Lion Music

Reviewed by Dave Palmer

There really is no doubt to where Alex Masi stands in the guitar great scale of players. He definitely ranks very high due to his technical nature and great composing. Well, speaking of composers, the latest album by Masi is another tribute to Beethoven that follows in the tradition of his previous efforts with Bach and Mozart. Upon listening to the album, you take one thing away from it without a doubt. How well done the music is and how it is converted from Beethoven's version to Masi's guitar based versions. It is very true to the original in many different areas. The only problem this album might have is finding an audience outside of the crowd that listens to instrumental as well as classical music. While it's something I can listen to, it's also something I have to be in the mood for since I am more of a dirty rock and roll fan. This in now way takes away from the quality of this album as I think it was very ambitious for Masi to not only bite off this record, but the other two as well with the complexity that exists in the original work. In a nutshell, not every guitarist out there is going to pull this kind of work, but fans of Masi already know he is more than capable of handling the job, especially after the previous two. As far as the music itself, even for those who don't listen to classical are still gonna recognize a wide portion of what is on this record due to it being played in just about everywhere sometime in the past. You have 'Symphony no. 5 (First Movement)', 'Sonata no. 1 (Waldstin Sonata)' and four other familiar tunes.

Overall

A really well done album once again by Alex Masi. The music is complex, but converts to Masi's guitar style very well. It may not be something I can listen to all of the time, but when in the mood, this album has it's place. If you like either classical work or instrumental guitar work, this one's definitely a must!

Questions or Comments? Email Dave by clicking here.

Reviewed by Dave Palmer

Iron Mask features Dutch guitarist Dushan Petrossi. Some of you may be familiar with his work with Magic Kingdom and the release 'The Arrival'. Well, with some problems there, Dushan decided to work Iron Mask and offer us the album 'Hordes of the Brave'. I can't really compare this work to the Magic Kingdom sound as I have never heard the other stuff, but I can probably tell you how this one sounds anyway. I would classify the band as a power metal band with some neoclassical influences. On some tracks I was thinking a bit of Iron Savior such as 'Holy War' or 'Demon's Child'.  There are other sounds as well. Those two tracks in particular are a bit faster in terms of tempo. The music throughout the album is consistently heavy although not typically over the top. There is also an epic style track that tends to be visual called 'Alexander the Great - Hordes of the Brave'. This is definitely one of my favorite tracks. The tune has alot of depth to it and fills the vision of the story very well. Looking to some of my other favorite tracks, I would mention 'Iced Winds of the North' with it's riff oriented guitar rhythms, 'My Eternal Flame' which is lighter than alot of the music on the album and closes out the listen well with a bit of melody. Also, 'The Invisible Empire' has a great tone to it and some meldoic moments that build to more intense choruses. 'Freedoms Blood - The Patriot' sounds really good as well. The music on the album flows well and has some great vocal kick to it.

Overall

A pretty good effort from Dushan Petrossi and company. The music tends to fall into a more traditional heavy metal style with a touch of neoclassical sound spattered throughout. The songwriting is pretty solid and allows the album to flow. A pretty decent release from this band and Finland's Lion Music.

Questions or Comments? Email Dave by clicking
here
.