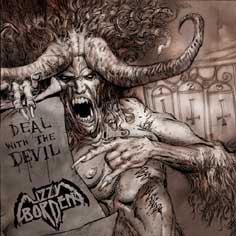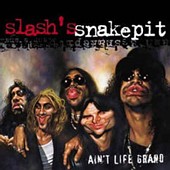 Lizzy Borden-Deal with the Devil

           © 2000 Metal Blade Records

Just when you thought Lizzy Borden was long gone... Their back!  After an absence on the music scene, one of the big shock rockers of the 80's returns with an offering to the fans. With the revival of other 80's bands, why not??

This album is heavy! It is very much Lizzy Borden and it is very much anticipated by a lot of fans. The album starts off with the classic Lizzy sounding track 'There will be blood tonight'. Moving along we have 'Hell is for Heroes' which has great vocals. The tune is heavy but melodic and accessible. 'Deal with the Devil' takes you back to the 80's. Has the same feel as earlier records. 'Zanzibar' follows and is my favorite of the album. From the opening with the Sitar to the depth felt thru the song, this song kicks butt in a big way. As a matter of fact, buy the album and jump right on this track first. Another great sound develops in 'Lovin' you is murder'. The song flows very well and will probably be a fan favorite. 'We only come out at night' may be considered by some to be the experimental track. Whatever you want to call it, it ROCKS! Another favorite. Should appeal to new fans. 'Generation Landslide' and 'The world is mine' continue the album in classic Lizzy style. The latter uses some interesting sound elements. 'State of Pain', '(This ain't) The summer of love' and 'Believe' finish the album with the same consistency displayed through out. Be sure and check out the multimedia enhancements as well.

This is a truly great album. I am a Lizzy Borden fan from way back and was plenty excited to see this one come out.  This is one of the strongest Lizzy albums to date and should not be missed.

Slash's Snakepit-Ain't life Grand

               © 2000 Koch Records

Well, it's finally here. After being shelfed and Slash parting ways with the previous label, Koch signed him and we now have this album. Was it worth the wait. I would like to think so. Hey, this is a fun album to listen to. Let's break it down.

This album is very upbeat and active. Rock was meant to be fun and Slash really delivered on this one. 'Been there lately' opens the album with party rock sound. I love the next track 'Just like anything'. Great percussion sound and guitar. 'Shine' has some cool slide guitar and effects. Kind of a slow tempo tune, but very cool. 'Mean Bone' is my favorite. Love the guitars on this one. Starts off with some rap and then throws it out the window. 'Back to the moment' slows a bit, but sounds great. 'Life's sweet drug' is a rocker. Gotta love this kind of stuff. Great groove. 'Serial Killer' is very cool, but dark and moody. Imagine that with a song title like that. 'The Truth' and 'Landslide' continue the album in mid tempo fashion. 'Ain't Life Grand' gives us a totally different feel for this album. Shakes it up a bit with the horns and has a show tune feel to it in a way. 'Speed Parade' and 'The Alien' end the album off heavy. Rod Jackson's vocals are really over the top on the latter. You'll dig it!

This is a  cool album. It's been a while since we heard some good Slash stuff. The album is very enjoyable and doesn't get old with each subsequent listen. Get out there and check this one out. You won't be disappointed.