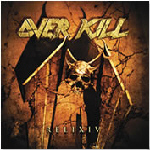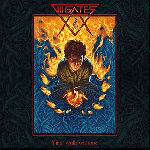 Overkill - RelixIV

© 2005 Spitfire Records

VII Gates - Fire, Walk With Me

        © 2003 Sound Riot Records

Reviewed by Dave Palmer

As some of the veteran bands either reunite or take a stab at returning to the sound that put them on the map, Overkill return with their latest offering 'Relixiv' and the same sound they have embraced for many years now. This band has kept it consistent, even in times where it wasn't cool to be what this band is. They have a comfort zone that works well and the fans know exactly what they are getting before they get it. It's not how experimental Overkill will be this time, it's will they be heavy or bruisingly heavy. Now that we have identified how we know this album will be heavy, what does it actually sound like. Well, I would say it is a continuation of the work on 'Killbox 13'. I found it fairly similar through and through. Is it a bad thing? Well, depends on who you ask. I am personally content with what the band offers each time and have been since I heard them for the first time on 'Taking Over'. There are others who are much harder to satisfy. I'm sure there will be gripes with that crowd and this release. There isn't anything here that is groundbreaking. It's just more great power metal oriented stuff. The band sounds as tight as always and the stuff on this album should sound great live. Looking at the music itself, the first few tracks are fairly straightforward. 'Within Your Eyes' sets the tempo from the beginning and the band rolls right through 10 tracks from there. Standout tracks on this album include that track along with 'Loaded Rack', 'Bats in the Belfry', the thrashing 'A Pound of Flesh' which is one of the faster tracks on the album as is 'Keeper'. These two songs compliment each other by being back to back. I also like the track 'The Mark 2:14' and the closer 'Old School'. The latter is humorous but extremely fitting for this band. They really haven't given a shit the whole way as the song mentions and hey, we appreciate it man!

Overall

Another decent record delivered just the way you would expect it from Overkill. It gets done what it sets out to do and that's all I expect from Overkill. They have been doing it their way from the beginning and have gained legions of fans as a result. Although it doesn't explore anything new in my opinion, it's still another fun album to listen to. Good job once again!

Questions or Comments? Email Dave by clicking
here
.
Reviewed by Dave Palmer

Sweden's VII Gates play it fairly traditional. The band embrace a classic heavy metal style and it definitely shows on their album 'Fire, Walk With Me'. The first track is metal sounding right down to Criss Blackburn's Halford-esque screams. The album at times sounds a bit like melodic speed metal, but never veers much from a traditional sound. I was impressed by the sound of other tracks such as 'The Saviour' which has a European sound to it. The album overall is pretty straightforward. What is equally as impressive as some of the music is the guest musicians who decided to land this band a helping hand. Some of the guests include Kee Marcello who played for Europe, Chris Amott from Arch Enemy, Tommy Denander from Radioactive and Janne Stark from Locomotive Breath. Looking at some of the tracks a bit closer, 'Bounded by Hate' opens the album with good balance in melody and heaviness. The tracks from here stick close in tempo which provides a pretty even listen. 'The Saviour' follows and at times had me thinking Loudness. 'Seconds Left to Live' is a solid rocking number with some cool choruses. 'Under the Crossed Bones' is just a metal sounding title and the music is just that. Good chugging rhythms on this track. 'So Far Away' is one of my favorites. This track is really cool due to the melodies. The music is laid back and I guess could be considered a power ballad in a way. Definitely one of the albums high moments. 'Tormented' is good. I think the choruses carry this song. 'Love Bullet' is one of the best crunch rockers on the album. Love the atmospheric background the band use in places on this one. I also like vocal work here. Criss reminded me alot of Mike Vescera on this track. Same inflections in his voice. 'A Dark Room of My Mind' is another favorite. This track is driven by mood. Probably the darkest sounding track on the album. 'Like a Rock' is straightforward and leads to another one of the best tracks on the album, 'The Madman Inside' progresses along and changes tempo throughout the song. This track definitely showcases what the band is capable of, at least at the time of this album.

Overall

This is a very good band from the Sound Riot label. This album was released back in '03, and I believe the band have now changed labels. The band have really planted their foundation and should be able to do good things with the next record as part of the natural progression a band goes through. The music is pretty solid and if you have a chance to hunt this one down, it could be worth your while!

Questions or Comments? Email Dave by clicking
here
.