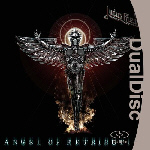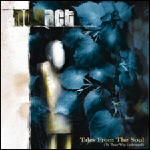 Judas Priest - Angel of Retribution

                  © 2005 Epic Records

Novact - Tales From the Soul

               © 2005 Sensory

Reviewed by Dave Palmer

Just what you thought might never happen has happened. The metal God has returned to the fold of the mighty Judas Priest. I would consider that to be one of metal's down moments for sure. We had just been offered one of Priest's best albums in 'Painkiller' and then Halford had left the fold. Well, it's been around 12 years or so now and the band is once again intact with the original 'Painkiller' lineup. What I  find interesting with 'Angel of Retribution', is how it sounds a bit more like classic Judas Priest. Listening to the structure of the songs and how the band approached the songwriting this time around takes the album away from a 'Painkiller' sequel and into something almost as familiar. In my own opinion, I think from a structure standpoint,some of this album lies somewhere between 'Hell Bent for Leather' and maybe 'Defenders of the Faith'. It would lean a bit more towards the earlier however. The album opens with the appropriately titled 'Judas is Rising'. The guitar sound on this track reminds me a lot of the 'Screaming for Veangence' era. You can also ascert one thing very quickly with this track, Halford has not lost anything vocally,but then again, we already knew that after the brilliant album 'Resurrection' from a few years back. As we look at the rest of the music, we find some straight ahead rockers such as 'Deal With the Devil' which really sounds classic to me, 'Revolution' which has a modern vibe to a point, but has a classic feel as well. 'Worth Fighting For' is one of my personal favorites. This track is very midtempo and somewhat melodic. 'Demonizer' is the nominee for track that would've best fit on 'Painkiller'. This track in my opinion is one of the heaviest and should please the fans. 'Wheels of Fire' reminds me a bit of the mid 80's era Priest. Has a nice crunch to it that will have you comparing. 'Angel' to me is the most classic sounding of the bunch. Another one of my favorites. This track is lighter for the most part, but  is very appetizing. 'Hellrider' is a rockerthat also sounds a bit retro in places, but also sounds a bit like the Halford-less Priest of recent years. 'Eulogy' is a short track that kind of sets the mood for the finale 'Lochness'. I really liked 'Lochness' even at it's length of around  15 minutes long. This track is moody and heavy. The version of this disc I bought was the dualdisc version which also has a dvd version on the flipside. The video portion was quite fun to watch with the band talking about the reunion as well as some cool live footage from the bands 2004 reunion tour. The only thing I would have changed was the songs being played in their entierty. The video shows short takes of each track, but it definitely was a nice addition that fans are missing on the regular cd version. I was also not that impressed with the higher resolution audio portion on this side. I don't go much for stereo versions of high resolution audio. I don't find it much of a selling point although my gripe is fairly minor. The next generation of audio is multi-channel in my opinion, and I feel the dvd-audio people are selling themselves short by going stereo.

Overall

I really like this comeback by one of metal's greatest legends. I feel the high point is the fact that the band returned in some ways to a classic sound without sacrificing their edge. The music is quality and should make most Priest fans very happy. Highly recommended!

Questions or Comments? Email Dave by clicking
here
.
Reviewed by Dave Palmer

Novact are a Dutch band that play their music somewhere between melodic rock and progressive. After a good listen, I found the music very accessible, but also having a decent amount of depth. This is where you would get your progressive classification. The band offers up an equal amount of guitar attack and keyboard finesse. The album opens with one of the best songs on the album, 'Sharply Condemned'. It is a good bet that if you like this first track,your gonna like the rest as I found the music consistent. If I was to point out why the album isn't purely progressive, it would be due to the discipline. Everything is delivered without the appearance of being too flashy. Looking at the music track by track, the opener, 'Sharply Condemned' has a heavy edge to it, but also a fair amount of keyboard in the background giving the overall sound a rich feel. This type of sound is prevalent throughout the album. Kind of the bands stamp on their sound I guess. The second track 'Hope and Fear' reminds of more modern Saga for some reason. After that, tracks like 'Eternal Life' and 'Path of Daggers' remind me alot of the Australian band Vanishing Point. More in the music than the vocals however. Some definite similarities. The album moves along with some other decent tracks such as 'Flower' and 'The Rider' which are both fairly straightforward. 'Nothing Worth Fighting For' is a favorite track. A bit laid back, had me thinking Marillion in places. The album closes with 'Promises' and 'Bad Religion' in that order. 'Promises' is pretty typical of what you will have heard to this point. Good hard driving atmospheric rock. 'Bad Religion' has a very cool vibe to it in my opinion. I think that overall, the album is fairly consistent. I think that fans of this type of music should definitely lend their ear. Vocally, Eddy Borremans has some of the qualities that Fish had in Marillion. He's sure to draw a comparison or two.

Overall

A very solid debut release from the band that used to be known as Morgana-X. I don't feel the album is a total progressive album although a case can be made if you were to bring up Marillion's type of progressive. The music tends to be very atmospheric with a good hard drive and solid low end. The vocal work is good and fairly unique as most singers in progressive style bands with the exception of Fish have a little less emotion. If you are into any of the bands mentioned such as Vanishing Point, Marillion, Saga, or maybe even Rush, you may want to search this one out!

Questions or Comments? Email Dave by clicking
here
.