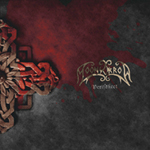 Moonsorrow-Verisäkeet

   © 2005 Spikefarm Records

Reviewed by Dave Palmer

Moonsorrow is an interesting band. They are definitely not your ordinary metal band. The proof is evident with the bands new release 'Verisäkeet'. There are 5 songs on the album. One song, 'Kaiku' chimes in at just over 8 minutes, but the other 4 are all over 14 minutes a piece which in some ways gives the music an epic feel. The bands music on this album is heavy, but not grinding as you hear with some of the other Finnish metal bands. There is a bit of richness in each song and at the same time a very dark and intense edge mainly due to the vocal style. What is also interesting is the way the songs blend together. I don't speak Finnish or pretend to and I'm sure there is something bigger here. Each song name is also in Finnish and I do have translation for those. They are as follows 1. 'Karhunkynsi' - 'Bearclaw', 2. 'Haaska' - 'Carrion', 3. 'Pimeä' - 'Dark', 4. 'Jotunheim' - 'Jotunheim' (ok, I know it's the same), 5. 'Kaiku' - 'Echo'.  Each song has a feel of medieval times which gives the album a lot of atmosphere. The final song is the oddity of the bunch. You can hear a fire burning, almost like a campfire song for warriors or something. This is the shortest song of the bunch, but still has a certain quality that you see woven throughout the album. This band packs a lot of punch not only in the music, but in the imagination department. I really haven't heard too many other bands that deliver the way Moonsorrow does. There is a certain comfort zone here which brings out a great deal of originality. You listen to each song and sense that each track acts like a puzzle piece to something larger. It's really cool stuff, but you'll need to have an open mind and a little time to kick back and check the whole thing out in one spin.

Overall

This band and album may not have appeal for all audiences, but I find the band to be enjoyable. I found myself spinning the disc realizing the songs were long, but never got the feel that they were drawn out. The music has really cool musicianship and atmosphere and tends to be a bit visual. If you fit the mold of the fan I am talking about, give it a spin!

Questions or Comments? Email Dave by clicking
here
.

Rapture-Silent Stage

© 2005 Spikefarm Records

Reviewed by Dave Palmer

Let me tell you, if you pop this disc in and think you have the band figured out off of the first song, you'll be dead wrong. The band I have seen classified as Melodic Death which always cracks me up. That's exactly what they are, but the classification sounds like an oxymoron. The reason I mention the first song 'Misery 24/7' is that the main vocals are definitely death style with more melodic vocals filling the background. The minute you jump to track 2 which is titled 'The Past Nightmares', it is exactly the opposite. This particular track has a very cool vibe and tends to be laid back.  From there you get a decent mix back and forth. The band fills the melodic title very well as each song. As a matter of fact, some of these tracks come across fairly radio friendly. The music is mid-tempo throughout the album and comes across heavy in other ways. Looking at the tracks in particular that I thought were cool, I would include that second track 'The Past Nightmares' as you could get most to like this album off of that track alone, 'I am Complete' is very catchy and moody, 'For the Ghosts of our Time' is a very cool sounding instrumental track, 'The Times we Bled (Closure)' which is pretty melodic and good vocally, and the closing track 'Completion' which is instrumental, but has a quality about it that brings the album together. This track is the most melodic of the bunch in my opinion and a fine way to close things out. I have to be honest, I was one of those guys who popped the disc in and thought I had this one figured out off of the first song. The first song is good but the album covers alot of ground and really sustains a good listen start to finish.

Overall

Once again, this is melodic death metal. Do not let that scare you because half of the tracks on the album would have you swearing that this band has nothing to do with death metal. That kind of music gets pigeonholed in a hurry and it's surprising what some of these bands are capable of. Give this album an honest spin and it might just surprise quite a few people. I say it's definitely a decent listen.

Questions or Comments?  Email Dave by clicking
here
.