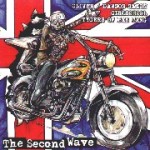 Pagan's Mind - Infinity Divine

              © 2004 Limb Music

Oliver/Dawson Saxon - The Second Wave

                   © 2003 Communique Records

Reviewed by Dave Palmer

This release via the Limb Music label from Germany is a revised edition of the bands first album. I have become a fan of other great Norwegian metallers such as Conception and the like, and with these guys following on the heels of Conception and the other big band from the little land, TNT, I was definitely curious. Well, it's definitely progressive in nature. Almost like older Fates Warning mixed with some of the earlier Conception material. One thing is for sure, it has a bit of crossover potential. Don't go in just expecting progressive showoff. Fans of melodic metal will like this as well. The album opens on an accessible note with the intro track 'Prelude to Paganism' then blending into the track 'Caught in a Dream'. At times the melodies in the vocals on this track had me thinking early Queensryche. The title track 'Infinity Divine' shows off the progressive nature of the band with it's dominant keyboard sound in places and familiar but edgy rhythms. Love the vocals on this track as well. Another favorite is the track 'Astral Projection'. I tend to find different things on albums that make me like songs. One thing that immediately ends up creating a common thread is the memorable choruses. You'll be remembering these choruses well after the disc stops spinning. I also find it interesting that you haven't seen these guys at a larger plateau. They are heavy yet have the accessibility of a band like Vanden Plas. They are not overly sophisticated as some progressive bands are which should add to their appeal to more mainstream audiences. Other favorites include the more laid back and atmospheric 'Dawning of the Nemesis', 'King's Quest', the more frenzied yet melodic 'Twilight Arise', 'A New Beginning', and the blistering cover of King Diamond's 'At The Graves'. Vocally, this cover is brilliant. Sounds alot like the dark one himself!

Overall

A pretty impressive debut from this Norwegian band. It is a revise of the previous release originally available in 2000. This version has a couple of bonus tracks that are equal in quality to the rest of the album. This band make it easy to listen and like with the first spin. They come across accessible and should appeal to mainstream rock fans and progressive fans alike! Very good release!

Questions or Comments? Email Dave by clicking
here
.
Reviewed by Dave Palmer

I have been a fan of Saxon for a very long time. I have to credit that band with injecting me with the addicition of metal that has lasted a very long time. Well, this band features 2 of the original Saxon members Graham Oliver and Steve Dawson. Also we get Nigel Durham from Saxon on drums, Hadyn Conway from Son of a Bitch, and John 'Wardi' Ward from Shy on vocals. You could say the band is well tenured. As far as the music, it definitely rocks. The thing it has in common with Saxon is the heaviness, but it is different as well. Ward's vocals are a bit dirtier sounding which really matches the intensity of the music. The album opens with a very cool grinding tune titled 'Worlds Gone Crazy'. I think the opener typifies the rest of the album pretty well. If you like that track, it'll be a fast forward free experience for you. I found the second track 'Nursery Crimes' humerous with it's usage of familiar nursery rhyme verses with a heavy crunching guitar sound. 'Radar auf Staal' is the headbanger of the bunch. You will not be able to listen to this track without the familiar hair flying movements. I liked the usage of wheels of steel in there as well. Wonder where they got that from (just kidding). 'Ghost' is the more mainstream sounding track. Heavy in places but a bit more accessible. When the track 'Broken' started, I was thinking very early Maiden. Reminded me of that era especially in the guitar sound. Easily the best track on the album in my opinion. The final track on the album is titled 'One More for the Road' and quite honestly, I don't think this track was part of the release the band was selling on tour, but was a part of the demo I was given. It's a bit more raw, but still very cool and consistent with the rest of the disc.

Overall

I like this band. It's no surprise with the members involved. I have been following a few of there careers for a very long time. This is a very short album, but it's big on quality of metal delivered. It's clear that these guys have defined themselves as a unit and I am personally glad they are still giving us great sounding traditional metal. Definitely give it a look!

Questions or Comments? Email Dave by clicking
here
.