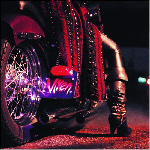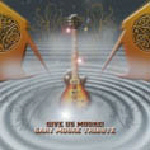 Vixen

© 2004 EMI Manhattan

Give Us Moore! - Gary Moore Tribute

                      © 2004 Lion Music

Reviewed by Dave Palmer

The first two Vixen albums have been reissued recently. I guess it has been some time coming. I remember this band really making waves in the heyday of big hair rock and roll. I personally never got into them back then. Not that I was biased against all female member bands because I wasn't. I think what I may have been turned off with was the drum set in a video. Seein it as a motorcycle in the video had me laughing. Well, many years have passed now and I am not quite as critical as I was. I decided to check these reissues out for review and found the music to be very fun. I had heard some of the stuff that was radio played obviously, but there was quite a bit that I was hearing for the first time. You may call me crazy for not paying attention to bands such as Vixen, but at the time I was really embracing some very heavy shit. I went through phases. I would go to lighter or mid tempo rock and then get crazy again with the heavy Slayer and Metallica stuff. So as I write this review it seems kind of senseless to give a description of the music. If you are reading this review then you are more then likely familiar with the album anyway. I would like to say that I found it cool. Not anything you haven't already heard many times over, but the songs are good. I like the tracks 'Edge of a Broken Heart', 'Cryin'', the laid back 'Desperate', 'Hell Raisers', and 'Cruisin''.

Overall

A pleasant surprise. Nothing shocking here, just straight forward rock and roll. Hard tot tell everyone to run out and buy this as I am a bit slow on the draw with this title. I think a good portion of the fans will already have this. If you are one of those who doesn't and haven't heard this band yet, they really are pretty good for the style they play. The showed everyone that females really can strut their stuff around the stage.

Questions or Comments? Email Dave by clicking
here
.
Reviewed by Dave Palmer

I have been a big Gary Moore fan for a very long time. I can't say that it was Thin Lizzy or even his early masterpiece albums such as 'Corridors of Power' or 'We Want Moore' that did it for me. I actually was hooked a bit later on. It was the track 'Out in the Fields' that hooked me on his style of rock. His career has spanned a lengthy 3 decades plus now and has churned out some very good music, which is the reason we have this tribute I am sure. The 80's era of Moore is the main concentration of the music covered on this tribute. Two albums in particular that I absolutely love are represented well. 'Wild Frontier' and 'Run for Cover'. As a matter of fact I would say my favorite all time track by Moore is 'The Loner' off of 'Wild Frontier'. It's instrumental and just flows with emotion. Joop Wolters does an amazing job on this track. Also, as I mentioned, I was a big fan of the track 'Out in the Fields'. This particualr track is covered by a band called Iron Mask. I would have to say that every track was done very tastefully. You can usually expect that from Lion Music, which is something I have noticed from the past. I also really liked 'Led Clones' done by Dogpound, 'Parisienne Walkways' by Mattsson, 'Falling In Love With You' covered by King of Darkness, and 'Shapes of Things' by House of Shakira. If you are not into the tribute thing, this may not have appeal to you, but I think it is a very well done album, by some great artists.

Overall

It's a tribute, but a tribute to one of rock's more respected artists and definitely one of my favorites. I like the representation here as well

as far as album's go. Lot's of 80's rock with some great respect given by each artist.  If you like tribute albums, this one is a great one. If you don't, this one is really good and as long as you like Gary Moore, I think you'll probably dig it anyway!

Questions or Comments? Email Dave by clicking
here
.