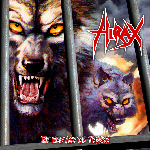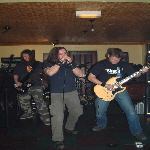 Hirax - The New Age Of Terror

© 2004 Mausoleum/Black Devil Records

Godbotherer-Buckle up Bitch

        © 2004 Godbotherer Music

Reviewed by Dave Palmer

Well, here's some good old fashioned kick you in the teeth power metal/thrash. I give it that classification because it isn't always just thrashing out although it does have it's moments. This is the long time band that some of you may remember. What we have with this album is some very good guitar oriented metal with some classic sounding vocal work From Katon DePena. The album has a feel as if it were released back in the heyday of thrash music. That's not a bad thing either. You know that quite a few of you were whining and wondering when the music was gonna come back. Well, your ship has landed. Here it is. Doing it the old school way, just the way you wanted it. I found the album pretty consistent in quality. Really no weak tracks. It came down more to styles I thought.  The album opens and sets the pace for the album. It moves along at this pace without veering much. If I was to look at a track that I felt would change things up a bit I would mention 'El Dia de los Muertos (The day of the dead). It is a lighter piece that is instrumental and a bit short. There are a few other quick tracks that are either under a minute or over by a short bit. Those tracks are heavier than this track which leads into 'El Diablo Negro' which is heavy and has a pretty cool groove to it. 'Unleash the Gods of War (Open the Gates) closes the album amazing. A very good heavy track that has some great guitar work . As a matter of fact I found some of the rhythm work downright infectious for thrash fans.  'Hell on Earth' or 'Suffer' are very good examples of this.

Overall

There's been some very good heavy stuff coming out lately and it's even better when it's from a band that has been around the block. Hirax was doing this long ago and the bands tenure shows. Nice to see them banging the tunes out again. I think the album has a good flow to it and really doesn't miss a beat. It will appeal to power metallers and thrashers alike. I like both so I was plenty happy with it!

Questions or Comments? Email Dave by clicking
here
.
Reviewed by Dave Palmer

I was contacted by this band as they were looking to get the word out on their music in general, so I accepted a demo from them which is the subject of this review. Everyone who knows me knows I don't dig death style vocals a whole lot and Godbotherer definitely embraces this style. It isn't a total loss for me as you might think though. What I picked up on here was the cool vibe of the music. The band may sing it that way, but they play it a bit different.  I also found it interesting vocally how they use a variety of styles mixed with the death sound. You'll get some higher octave vocals kind of mixed in as background vocal work. As mentioned though the musical portion of the band is quite good. Not overly technical, but just hits it right for the style they play. The first track 'Buckle Up Bitch' sounds fairly traditional in it's sound. Not really thrashy, just a good heavy tone.  'God Made My Medicine' has some modern sounding rhythm grind going on. Sounds good to me. I thought vocally it was interesting. This track had the dual vocals I mentioned. 'Why Don't You Wake Up' once again sounds fairly traditional in the guitar parts.  'Tungsten Towers' has one of the coolest vibes on the album I think. Cool bass line. Once again not overly technical, but very sufficient.  The final two tracks '1234' and 'As I Reload' are fairly typical of the rest of the album. The music was consistent throughout and a pretty good demo that might appeal to the death fanbase.

Overall

A pretty decent demo. The band have some good things going for them. I am not into the death grunt vocals, but do realize there is an audience for this. The part I liked was the music. If the vocals were a bit different I would probably be won over totally. It's definitely listenable for me, but will appeal to fans of death metal much more. I think those fans might be pleasantly surprised at what this band has to offer.

Questions or Comments? Email Dave by clicking
here
.