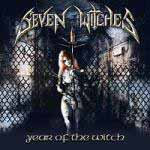 Seven Witches - Year of the Witch

         © 2004 Sanctuary/Noise Records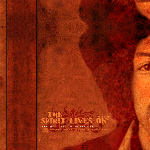 The Music of Jimi Hendrix Revisited Vol. 2

                            © 2004 Lion Music

Reviewed by Dave Palmer

Seven Witches for those who don't know is the band that features Jack Frost who also played in most notably Savatage and Metalium, but also the Bronx Casket Co., Speed and Frost Bite. Yes, another busy musician that has been involved with some pretty cool projects. The latest and fifth offering from Seven Witches has just been released and it is definitely a rocker. The band have embraced a pretty dark grinding sound. I look at it as a traditional metal album with a bit of flair here and there. If I was to point to the flair it would be the multi-part track 'Jacob' that is broken into 8 parts. Some parts heavy, some short, and a fair amount in depth in some of them. At times I was thinking Savatage due to the way the song was structured. A good portion of the album is heavy however. The album cranks open with the track 'Metal Asylum' which could be considered the 'unique' track of the album. Kind of an ode to the metal greats of years ago. Love the imitations of David Lee Roth and Bruce Dickinson. Had me cracking up and reminiscing, but the song differs from the rest as it is more straight forward and upbeat. The rest of the album for the most part is dark and in your face. James Rivera does a masterful job and doesn't really overdo anything. His vocal prowess fits the music like a glove. Some of the other tracks that hit it right with me included 'Year of the Witch', 'Fires Below', 'Can't Find My Way', and as mentioned the 'Jacob' tracks. With the exception of 'Metal Asylum' the album is consistent in styling's and sound.

Overall

As I get inundated with alot of music, I had honestly not had a chance to check this band out. Not for lack of curiosity though. Knowing Frost was involved with one of my favorites, Savatage, I was definitely interested. This album was my intro to the band and I have to say I am quite pleased and will probably go backwards in the bands catalog one by one. So as I tell you this one is worth picking up, I tell myself the same thing about the bands other albums. Recommended!

Questions or Comments? Email Dave by clicking
here
.
Reviewed by Dave Palmer

There is no doubt that Jimi Hendrix had a profound on many musicians to come after him. Hendrix really put a trademark on his sound and this would be part of the reason he has been so successful even many years after his untimely death. My comrade in the website actually reviewed volume one of this set, but with his leave of absence for a bit, I got to delve into this release and give you my thoughts. Looking back at the first album, I was quite surprised to see the absence of the highly popular track 'Purple Haze'. That in itself was enough reason to put together a second set of tracks. There was some big stuff on that first issue, but to be a completist we needed to get a few more in there such as 'Angel' covered by the amazing Dave Martone. Also, the bluesy 'Red House' covered by Tony Hernando and a cool rendition of 'Villanova Junction' by Condition Red. There is also a second version of the track 'Freedom' on this album that was done by Baltimoore. The first version appeared on the first volume by the band Sun Caged. Lars Eric Mattsson shows up twice on this album. The first with ex-Megadeth and current Ohm guitarist Chris Poland on the track 'Roomful of Mirrors'. This track has a very cool vibe to it. The second track with Mattsson is 'Burning the Midnight Lamp' where he appears with James Byrd who some will remember from his days with the now classic Fifth Angel. Other acts lending their talent to this album include Winterlong covering 'Purple Haze', Project Alcazar offering 'Manic Depression', one of my favorites, Torben Enevoldsen jamming out 'Who Knows', and finally the talented Tommy Denander giving us his rendition of 'Them Changes'.

Overall

If you are into Jimi Hendrix and don't mind some newer renditions and takes on his music, this is gonna be right up your alley.  I think that the music will appeal to an even wider base with some of these recordings having a more updated sound then the originals. Jimi Hendrix left his mark on the music world with just a few albums before his passing, but now a new mark is added to that with the respect paid to this musician by some other very talented people. Definitely a fun and solid release!

Questions or Comments? Email Dave by clicking
here
.