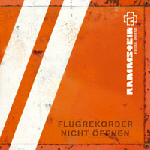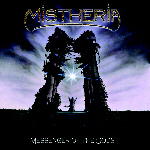 Rammstein - Reise, Reise

   © 2004 Universal Music Group

Mistheria - Messenger of the Gods

                   © 2004 Lion Music

Reviewed by Dave Palmer

I really wasn't sure what to expect from this release. I know that Mistheria is highly rated as a keyboard player. As a matter of fact, he is rated as Italy's number one keyboard player. I guess I expected this album to be a big showoff on the keyboards. An instrumental clinic for keyboard players around the globe. Well, I was wrong. This album was two years in the making and it really shows. Mistheria actually keeps himself in check and has done his keyboard work very tastefully. Not to say he doesn't get it on, because he really can and does in places. There is actually much more here. If you look at the guest list on this record, your jaw will hit the floor. I am not going to go into who is there, but it is all-star to say the least. I counted around 32 different musicians on this album. That is where the impressive stuff starts. I also want to point out that this is not an all instrumental effort either. Some of those guest include vocalists such as Rob Rock, Hubi Meisel, and Max Romano. There is also a soprano vocalist. Maria Pia Di Gioia sings this part on the song 'Witch of the Demons'. I want to call most of the music Power metal.  There are moments that remind me more of progressive and that is what I would expect. Alot of the album really gets down to business though such as 'Dynasty of Death', and 'Zeus Will Storm the Earth'. Very aggressive tunes to say the least although there is a touch of finesse added in that creates a balance. At times I was thinking melodic speed metal as well. One thing is apparent. This is a very heavy guitar driven album. Kind of surprising coming from a keyboard player, but that is the case. Like I mentioned earlier, Mistheria comes off classy without looking like he gets carried away. Very tasteful. Some of the other tracks I liked included 'Eternity', 'Titans', 'Messenger of the Gods', 'Dynasty of Death' and 'Zeus will storm the Earth'.

Overall

A very good album that lets the musicians balance the sound. You would expect a large keyboard presence, which there is obviously. But there is also a large presence of everything else which creates the balance I am talking about. The vocal work really makes this album complete and will bring in fans that would otherwise avoid an album like this that would've been instrumental. Definitely a large album and solid as well.

Questions or Comments? Email Dave by clicking
here
.
Reviewed by Dave Palmer

I have really become a big fan of this band. I'm not sure if they will every break really big into the Stateside mainstream or if they even intend to due to the fact that after the catalog they have released to this point, they still haven't embraced English as others have.  Thats okay though. I heard some English versions from this band and it doesn't have the same intensity. Doesn't quite sound right to me. Anyway, the band have released their latest album to the fans. I was a big fan of the previous effort 'Mutter' and wasn't quite sure what to expect. After all, this band has had the ability to change their sound from release to release and still offer up great music with amazing results. 'Reise, Reise' is no exception. It is sort of like 'Mutter' in some ways and very different in others. The album opens with the title track which is sort of in the style of 'Mutter'. Then it cruises into 'Mein Teil' which is totally different. Till's vocals are different on this track from anything I have heard him do. It sounds great and the tune is catchy and one of my favorites. You can also check out that song on the 'Resident Evil 2' soundtrack. The album gets guitar oriented with tracks such as 'Dalai Lama', 'Keine Lust' and 'Morgenstern'. There really is a variety of things on this album which makes it great. One of the more unusual is the track 'Los' which is more acoustic oriented but has a very cool vibe to it. There are also some more laid back tracks such as 'Ohne Dich', and 'Amour'. I don't speak much in the way of German, but it would be interesting so get more of what's behind the tracks 'Amerika' and 'Moskau' which also run back to back. I get the gist of 'Amerika' due to the video. It relates to the moon landing and the theory of some believing it was filmed in hollywood and not in space. It is also comical to see the group photos in the album. The band is dressed like Michael Douglas in the movie 'Falling Down'. The band is always doing something interesting which makes the whole experience that much sweeter.

Overall

Another rock solid effort from this German metal band. This band has the unique ability to change the sound a bit from album to album and still keep the fans happy. The presentation is equally cool as they always have something going on image-wise. If you haven't seen this band live, I highly recommend it. There is alot of pyro and the band really absorb the fans in. Another great effort that comes highly recommended!

Questions or Comments? Email Dave by clicking
here
.
*This album streets in the U.S. in November 2004