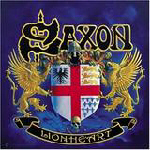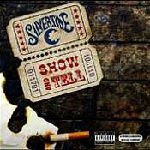 Saxon - Lionheart

© 2004 SPV/Steamhammer

Silvertide-Show & Tell

        © 2004 J Records

Reviewed by Dave Palmer

I've been a fan of this band for a very long time now. Most of my favorite bands came out of the New Wave of British Heavy Metal. Saxon was definitely one of the top bands in my opinion and with the exception of an album or two in the 90's, I think they have been rock solid. The bands latest offering 'Lionheart' shows that the band isn't tiring and has alot to offer the fans once again. The album opens in heavy fashion with the blazing 'Witchfinder General'. One of the things I liked about this album right away was the guitar work. Not that it is technical, but there are those rhythms that just sound good and have you headbanging right away. This album is full of those types of songs. There are also songs that have a classic Saxon feel to them such as 'The Return' which is basically an intro to the title track 'Lionheart' which definitely has a classic feel to it as well. There are also some more laid back tunes such as 'Beyond the Grave' that has some great vocals as well as a bit heavier rhythm in the chorus section. Sounding a bit more modern is stuff like 'Justice' which is also a favorite of mine. Don't take that wrong either. I am no talking modern in the sense of this angry shit that has been dominant in the past few years. Just the rhythm sound. It is very catchy and instantly memorable.  'To Live by the Sword' is another heavy track that is also a favorite of mine. Probably one of the smoothest tracks is 'Searching for Atlantis'. There is quite a bit of melody on this one with some great rhythm work. This album might lean a bit closer to 'Innocence is no Excuse' then say 'Power and the Glory', but some of the rhythm work is definitely heavy. I think the band has progressed well and have put together another worthy effort as they always seem to.

Overall

A very consistent effort from this long time band. There are heavy moments on this disc that I always welcome, but there are also some more melodic although I would say the balance is leaning to heavy. Saxon is really surviving the test of time. With some of the sounds on this album they have the ability to add some new fans to their base as well as keep the old fanbase happy. Recommended!

Questions or Comments? Email Dave by clicking
here
.
Reviewed by Dave Palmer

I remember reviewing a 3 track demo sent to me from this great young band. I thought at that time that this band had the ability to be something special. The bands new full length effort does everything to prove me right. The band has a sound that reminds me a bit of The Black Crowes and at others maybe somebody like Buckcherry. I really like this band better than the bands mentioned as I think these guys show off the best elements that made those other bands good. What amazes me is where these guys come from when it comes to influences. This is raw and pure rock and roll played with passion. I think they are gonna create a serious buzz in the scene before too much longer. These guys would've definitely been a powerhouse in the scene of the late 80's that gave us bands like the Rock City Angels, Black Crowes, etc. They still have the potential, but it's all in the way the band is handled. There is a pretty decent mix of tunes here. Probably what the album has the most of is mid-tempo rockers that have infectious melody. Tracks such as 'Devil's Daughter', 'California Rain', and 'Blue Jeans' have very memorable and catchy choruses. The album also has more attitude based numbers that include 'SFC', 'Ain't Coming Home' with it's AC/DC sounding rhythm work, the best track on the album 'Mary Jane' ehich also appeared on the demo I reviewed, and 'You Want It All'. This is where the Buckcherry-ish side kicks in although I wouldn't call these guys clones, just some similarities. There are even a couple of very laid back numbers that add a great balance to the album. The slower tracks 'Heartstrong' and 'Nothing Stays' should go right to radio. I guarantee you that it would open some doors for this band. As a matter of fact, promoters, I dare ya to try it. Watch the fun begin!

Overall

Bands like this have the ability to change the music scene if promoted correctly. The scene is in need of an ass kickin when it comes to more roots oriented music. I think Silvertide has just the right recipe to do it. It's like taking a step back into the past and having fun again. If you were into the bands I mentioned above, I think these guys will be a no brainer for you. Definitely highly recommended and worthy of my pick of the month!

Questions or Comments? Email Dave by clicking
here
.