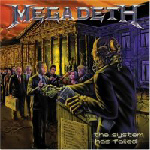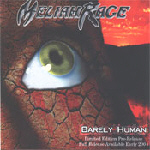 Megadeth-The System Has Failed

             © 2004 Sanctuary Records

Meliah Rage-Barely Human

  © 2004 Escapi New Media Studios

Reviewed by Dave Palmer

Well, I thought this band was dead. I had actually hoped not as I have been a big fan from the early days of 'Killing is my Business' up through the latest releases. As a matter of fact we got to take a look at the recent reissues and then came word of this new release. Bass player Dave 'Junior' Ellefson is gone now, but on the other hand Chris Poland returned to help handle guitar chores.  As far as the band lineup it appears that Dave has reunited with one of my favorite Megadeth drummer's,  Nick Menza. The bands other guitarist spot has been filled by Glen Drover and Bass chores are being handled by James MacDonough. I have to tell you right away that this album is hands down my favorite since 'Rust in Peace'. This album leans much more to the classic sound than the more polished sound of recent albums. Not that is overly fast either. This album has 12 great tracks. You will find yourself spinning this album start to finish without hitting the forward button. Looking at the music in general, it tends to be political and when it tends to be that way it turns out great. If you need examples, look at 'Peace Sells...But Who's Buying?' or 'Rust in Peace' which talks about nukes and the Roswell incident. Mustain really hits his groove when he enters this market. The album opens with the track 'Blackmail the Universe' which talks about terrorism. Point made? How about 'The Scorpion'? Another great track that looks at scenarios in todays world although maybe I am misinterpreting. Who knows, but I like it quite well. As mentioned, this is a great listen from start to finish. If I was asked to give my favorite tracks I would definitely go with 'Blackmail the Universe', 'Die Dead Enough', 'Kick the Chair', 'Back in the Day', the very catchy rocker 'Something I'm Not', 'Of Mice and Men', and 'My Kingdom Come' although as mentioned there isn't a bad song on the album. The band has definitely hit the mark.

Overall

If you remember my review of Metallica's latest album 'St. Anger' you will remember that I said the band had headed in the right direction, but was missing the solos. It was almost like they were afraid to embrace what put them on the map. Well, Megadeth embraced it and did a very good job. This album is going to get alot of spin in my deck. Probably the most spin since 'Rust in Peace'. It's political, consistent, and kicked my ass! Very highly recommended!

Questions or Comments? Email Dave by clicking
here.
Reviewed by Dave Palmer

It has been a very long time since we saw anything from Meliah Rage. Almost 10 years in fact. I remember picking a couple of albums up by this band in the early 90's when the scene was changing. I bought alot of albums at that time as a matter of fact and maybe the albums by Meliah Rage got lost in that shuffle. I thought the band was good enough when 'Death Valley Dream' came out that I picked that album up. I was surprised recently to see that the band has regrouped recently with new vocalist Paul Souza and released 'Barely Human'. What I was even more surprised about was how much I like this new album. It is actually very damn catchy, maybe more catchy then you would expect. This album comes with an unexpected gift. The band had actually recorded an album with Godsmack singer Sully Erna on drums. This album is included at this time as a bonus disc. I am not sure how long it will be doubled up, so if you are a fan of Sully, better grab this one. The album starts heavy as expected with the track 'Hate Machine'. One of my favorite tracks is the second song 'Invincible'. A speed metal thrasher that is ultra catchy. I liked it alot on the first spin of the disc. The title track is very cool as well. 'Barely Human' is crunchy and has some very cool chorus vocals. I guarantee you that you will be singing them long after listening to the song. When I hit the track 'Ungodly' I thought I was listening to James Hetfield. If I was gonna choose a single to get people's attention, 'Ungodly' would be that song. The album gets the tempo going with 'Wrong Place Right Time' and 'Rigid'. Very cool rhythm work in both of these tracks. 'Bloodbath' is another one of those catchy tracks like 'Invincible', just not quite as fast. Slowing the tempo a bit is 'Hellsong' although it is a bit dark in tone. The last song 'Motor Psycho' is another favorite. Great rhythm work again.

Overall

This album is another that will get some serious spin time. I was a fan of late 80's based thrash, and this release definitely fits the bill. I am very happy with every song on the album and feel the band has hit a homerun. I just hope that people take notice.  I definitely have to recommend this title. Watch for a review of 'Unfinished Business' from 2002. This is the album featuring Sully Erna. For now, go grab a copy of this album. I don't think you will regret it as I didn't.

Questions or Comments? Email Dave by clicking
here.