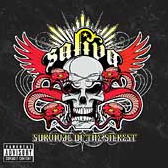 Saliva-Survival of the Sickest

           © 2004 Universal Music

Reviewed by Dave Palmer

I have to admit it. I was one of those fans who got caught up in these guys with the 'Click Click Boom' thing. I found 'Every Six Seconds' to be fun and energetic. While it looked like it was gonna be a rap/rock style album, it only had hints of it. The other stuff on the album in my opinion was far superior. Well, the band embraced more of the non rap/rock thing and has been carrying that torch for quite a while now. Two albums later we get 'Survival of the Sickest'. This album is pretty damn good in my opinion. Another collection of rowdy rock anthems. Take one listen to the opening track 'Rock & Roll Revolution' and you'll get my point right away. The album progresses from there, but everything stays fairly familiar which was fine with me. I wanted a consistent listen anyway. 'Survival of the Sickest' Seems to have a bit more bite to it. Maybe it's more attitude... I don't know, but it's all good. This is the closest I've heard this band sound to more traditional hard rock or metal with the exception of the easy going 'Rest in Pieces' from 'Back Into Your System'. As a matter of fact, if you are a traditionalist when it comes to your hard rock, I'd be willing to bet that you would like this particular album.  Some of the fans I have seen think this a good thing and some don't. Nonetheless, I think it will get some attention. Some of the tracks that I personally dig include: 'Rock & Roll Revolution', 'One Night Only', 'No Regrets (Vol. 2), 'Open Eyes', 'F*** All Y'All' and 'Carry On'. There is also a very catchy hidden track that I think is titled 'Sex, Drugs, & Rock 'n roll'. Now it's not very hidden, but a nice addition to the album. This song really has a traditional hard rock feel to it.

Overall

I found this to be a pretty solid record. Some of the fans that liked the more rap/rock oriented stuff may be disappointed once again, but for this band I think this is their comfort zone. At least I hope so. The music is fairly straight forward with a fair amount of the usual attitude. I would definitely recommend this title.

Questions or Comments? Email Dave by clicking
here
.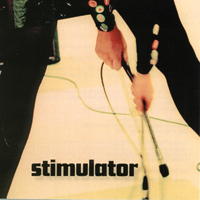 Stimulator-Stimulator

© 2004 Stimulator Records

Reviewed by Dave Palmer

There is probably a matter to get out of the way right away. This is not a hard rock or metal record. So why talk about it then, right? Well, some of you may remember T-Ride axe slinger Geoff Tyson. The Satriani  trained guitarist was in that band and it was one of my favorite albums. I always wished that Tyson and crew would have made a second album, but after my interview I realized why that would have never happened. After I had managed to get in contact with Tyson, I developed an interest in following what he was doing. Before Stimulator, he played for Snake River Conspiracy. I wasn't quite as keen on that particular project. They had some decent moments, but overall were average in my opinion. Stimulator is a totally different thing. We know how well and capable Tyson is on the guitar, but what about everything else? The music on this album is definitely meant to find the fun that was lost throughout the late 90's.  Well, they succeeded. The music is more pop oriented and really has it's roots entrenched in some ways in the radio of the 80's. There are elements of others like say Blondie. Not that i am claiming clone either. In some ways the bands approach is similar, but only on certain tracks. I quite liked it. Every now and then I take a break from the heavy stuff. I like to throw this kind of stuff in to shake it up and then it's back to the usual. Tyson handles alot of the duties on this album. Susan Hyatt, the vocalist is a pretty good vocalist too. Is it me or are the woman really making their mark these days. Hyatt is one of the better vocalists I have heard and she attacks it fairly straight on. It's a good combo with the two. If I was to name a few songs that stuck right away I would include '78 Stimulator', 'How Far Would You Go? (Die For Me)', ''Feeling Alright', 'New Vampire', 'In My System', and 'On Top Of The World'. There is also a cover of Olivia Newton John's 'Magic' that sounds pretty decent if you like that kind of stuff.

Overall

Catchy and accessible are two words I would use to describe this release. Geoff Tyson has really run the gamut in the music biz. From T-Ride to Snake River Conspiracy to this new band Stimulator. While this album is pop oriented it definitely has potential of landing Tyson somehwere very big if given the proper attention. If you need a change of pace once in a while and don't mind something more pop sounding, this one's a good bet!

Questions or Comments? Email Dave by clicking
here
.